Another blow to global trade? IMF head Christine Lagarde found guilty of negligence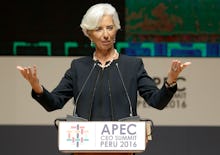 International Monetary Fund managing director Christine Lagarde has been found guilty of negligence over her failure to prevent a controversial bailout to a French businessman while she was the country's finance minister, according to a Bloomberg News report. 
The French court ruling represents yet another mark on the IMF's reputation: Lagarde is the second IMF head in a row to be beset by scandal — her predecessor, Dominique Strauss-Kahn resigned in disgrace amid accusations that he had sexually assaulted a hotel worker. 
Later on Monday, the IMF's board announced that it would be keeping Lagarde in her role, saying in a statement that the organization had "full confidence" in Lagarde. 
The deal scrutinized by the French court has to do with a decades-old dispute involving the formerly state-owned bank Crédit Lyonnais, Bernard Tapie, a French businessman and the sports apparel company Adidas. Back in 1993, Tapie alleged that Crédit Lyonnais pressured him into selling Adidas for less than it was worth. 
Lagarde allegedly signed off on a €403 million payoff to Tapie in 2008 to settle the dispute, which many argued she should have instead appealed; critics claimed the cash was effectively a reward for Tapie's backing of then-French president Nicholas Sarkozy. 
While Lagarde is still expected to keep her job, the ruling looks to further damage the IMF's credibility as a leading global financial institution, as incoming Huffington Post editor in chief Lydia Polgreen points out in the tweet below.
The IMF plays an important role in the global economy, and is generally tasked with making sure that businesses in all of its member companies play by the same set of rules.
It helps promote international trade and stabilize global exchange rates, while also issuing loans to member states when they're struggling economically.
The ruling against Lagarde is unlikely to help improve confidence in globalism and free trade at a moment when isolationism is winning hearts and minds across Europe and the United States. 
The guilty verdict could be a boon to President-elect Donald Trump, whose opposition to global free trade agreements earned a sharp rebuke from IMF. 
"There is a growing risk of politicians seeking office by promising to 'get tough' with foreign trade partners through punitive tariffs or other restrictions on trade," Lagarde said during a speech in Canada before the U.S. presidential election, reported the Guardian. "I am deeply concerned about this – not only because I was a minister of trade, but because trade has been at the heart of the IMF's mandate for more than 70 years."
The possibility of a new IMF leadership crisis — coupled with the IMF's already uncertain future with the U.S. — have already added to mounting fears about the possibility of a trade war, which economists including Joseph Stiglitz warns could "increase substantially" the cost of living for everyday Americans. 
In a statement, IMF spokesman Gerry Rice said the organization's board is expected to meet "shortly" to consider the recent developments.
Dec. 20th, 2016, 9:01 a.m. Eastern: This story has been updated.