'Overwatch' Christmas Event End Date and Time: Everything you need to know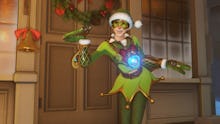 Now that Blizzard's multiplayer shooter Overwatch is in the midst of its Christmas-themed event, Winter Wonderland, you might be wondering exactly when it'll end. Here's what you need to know to make sure you don't get locked out of an item you have your eye on.
Overwatch Christmas event end date and time: Plan ahead
The official end date for the Winter Wonderland event is Jan. 2, but Blizzard has yet to provide a more specific time for exactly when the event will end.
However, if there's one thing players learned from the last seasonal event, Halloween Terror, it's that you should plan ahead. Make sure you've unlocked all the seasonal items you want the day before, on Jan. 1.
During Halloween Terror, some fans who were counting on playing until the publicly announced 4 p.m. Pacific end time found that the event had ended a bit before then, according to a report by Kotaku. This meant they were locked out of seasonal items they'll now have to wait a full year to access again.
So, whether you're planning on purchasing a bunch of loot boxes or buying a specific item at the hiked-up rate, do so before the Jan. 2 end date so you don't get burned if it wraps up a bit ahead of schedule.
More Overwatch news, updates, tips and tricks from Mic:
For more on Overwatch, read Blizzard's response to the outcry over Mei's winter skin, read up on the latest rumors of a Terry Crews-voiced Overwatch character, check out all the updates in patch 2.01, read the fandom's reactions to that Zenyatta Nutcracker skin, uncover the hidden details in the Winter Wonderland event and check out all the other unlockable goodies you can earn for Overwatch's other characters.