'Super Mario Run' Android APK: Downloading Nintendo's game early might give you malware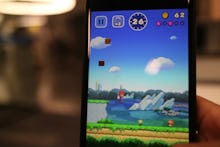 Super Mario Run quickly shot to the top of the charts on the App Store when it debuted on Dec. 15, but Android users are still hungry for information about when it'll release on Google Play. In order to bypass the Google Play store altogether and skip out on its $10 price tag, some users are trying to download the game's Android application package — abbreviated as APK — from third-party websites, which in theory would allow them to play a pirated version of Super Mario Run.
Here's why you should absolutely not do that.
Super Mario Run Android APK is most likely malware
Besides being illegal, downloading the APK for Super Mario Run on Android is almost certainly going to infect your phone with dangerous malware, according to a report by VentureBeat.
Usually, APK files pop up on third-party websites after a game has already been released on Google Play, but a release date for Super Mario Run on Android hasn't even been announced yet. That means these listings for APK files of Super Mario Run for Android are almost certainly malware posted by opportunistic hackers who are counting on people trying to get their hands on the game as soon as possible.
It's likely that hackers will eventually bypass the game's security measures and post legitimate APK files, but that's almost certainly not the case yet.
So, unfortunately, if you want to play Super Mario Run on Android, you're just going to have to be patient. Or, you could play a knock-off like Super Plumber Run in the meantime.
More Super Mario Run news, updates, tips and tricks:
Can't get enough of Mario, Bowser, Peach and the rest of the Mushroom Kingdom? Check out Mic's coverage of Super Mario Run, including how to unlock new characters like Toad, Peach and Yoshi, how to get different colored Toads to come back to the kingdom, and our coverage for the Android release date and a knock-off version to tide you over until it drops.