Tasty recipes to bring to a holiday potluck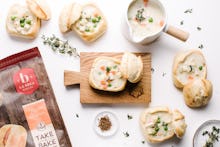 This year's holiday host is making it easy by serving a meal cooked by all the guests. Lucky you! You get to show off the best dish of the spread with your favorite holiday recipe, or maybe a new one you're privately pinning so no one sees it before the big night. 
If you're cooking for a holiday potluck this season, here are some easy, impressive recipes that will feed a hungry holiday crowd. Happy cooking!
Mini creamy chicken noodle bread bowls
If you can pull off carrying a slow cooker full of soup and some hollowed-out rolls to the potluck, you'll be the star of the party. Get the recipe here.
10-minute caramel apple baked brie
This sweet, melty cheese appetizer is deceivingly simple to make and will easily be the first dish gone before the meal even starts. Get the recipe here. 
Shaved Brussels sprouts salad with roasted beets, pecans and goat cheese
This salad is quick to throw together, especially if you cut some corners by using pre-cooked beets. It also feeds a big group while incorporating pretty much all the flavors of the season. Get the recipe here.
Creamy parmesan orecchiette with butternut squash and broccolini 
Pasta salad is the quintessential potluck dish, but this warm, creamy, seasonal pasta dish is so much more comforting than the traditional picnic-ready version. Get the recipe here.
Easy creamed spinach
If you're worried about creating a crowd pleaser, any dish loaded with cream and cheese won't disappoint. Get the recipe here. 
Coconut curried greens
This vegan greens recipe is suitable for pretty much everyone to eat and packs in the flavor with coconut and curry powder. Get the recipe here.
Shrimp and Brussels sprouts dumplings
Put down the frozen appetizer box at Trader Joe's and forget about the boring roasted Brussels sprouts tray — you're bringing dumplings to this potluck! Enlist a friend or two to help with the folding and check ahead of time to confirm you can steam them in your host's kitchen. Get the recipe here.
Spiralized sweet potato, kale and bacon quiche
Quiche is as easily transportable as it is shareable and this seasonal quiche's kale-and-bacon combo balance each other to make it a healthier holiday option. Get the recipe here. 
Cheesy bacon holiday crack
If cooking isn't really your thing but you can't bear to bring something completely prepackaged, make these cheese-and-bacon-covered potato chips to earn the adoration of the entire potluck party. Get the recipe here. 
Snowman veggie tray
Make your snowpeople out of veggies this year for an impressive tray that requires no cooking whatsoever. Get the recipe here. 
Hibiscus almond marshmallows and coconut hot chocolate
This seemingly complicated recipe is easy to make at home in a big batch, package in a thermos — and separate marshmallow bag — and take wherever your potluck may be. Get the recipe here.