Samantha Bee and Glenn Beck make unlikely allies on 'Full Frontal' Monday night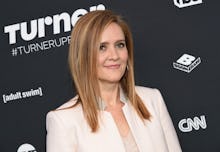 Late-night comedian Samantha Bee, host of TBS' Full Frontal, and Glenn Beck, the polarizing conservative political commentator, have joined forces to show the American public that in the age of Trump, any kind of alliance is possible. Beck will appear on the Dec. 19 episode of Full Frontal, which airs at 10:30 p.m. Eastern Monday nights on TBS. 
An unexpected pair
Bee, whose show has contributed scathing commentary on President-elect Donald Trump and the 2016 campaign, teased previews of herself and Beck sitting together, dressed in Christmas sweaters. 
"Is this how you pictured end times?" Bee asks Beck. "Just two media figures, eyeing each other suspiciously, in Christmas sweaters." 
Prior to Full Frontal, Bee spent 12 years as a correspondent on The Daily Show, where she often helped host Jon Stewart mock and criticize Beck. Bee departed The Daily Show to begin work on Full Frontal, which premiered Feb. 8, 2016.
The heightened divide in political discourse prior to and following the presidential election has led to Bee and Beck coming together. Bee also appeared on Beck's show, where the pair expressed concern over the ways American citizens receive information. 
"People are receiving their news in their own bubble of the internet. It's very difficult to penetrate that with actual information," she said. 
Beck's surprising statements 
The pairing of Beck and Bee was described as an "unholy alliance" in Vanity Fair, due to their history of differing political stances, but Beck's actions have shocked many members of the left in recent months.
Beck was a supporter of the Tea Party movement and campaigned with Ted Cruz during the Republican primaries. He went on to surprise many conservatives when he wrote on Facebook that the election came down to a "moral, ethical choice." While some interpreted his comments as an endorsement for Clinton, he later clarified they were not intended as one — but he has since admitted he did not vote for Trump. 
Following the election, Beck said he would reach out to Trump and work for unity within the country, telling the New York Times Magazine, "Please learn from my mistakes." 
"I found a bit of hope"
Beck originally declined Bee's invitation to appear on her show, which he said she extended as the election was winding down. He also admitted saying no to every comedy show except Jay Leno's, saying comedy programs often serve as a front for "ideological bludgeoning."
He later changed his mind, describing his thoughts in a Facebook post stressing the importance of bridging the political divide and communicating with people who may not share his ideals. 
"As anyone who listens to me knows, I believe that life is too short and the events in our country are too important to be a part of anymore division," he wrote. "I like to believe that I am always striving to be a better man. One way to do that is to reach out and embrace those who I may not agree with but, like me, believe that we, as individuals, need to find our way back to one another. I am willing to speak with anyone who I believe has the right intention — even if we disagree on everything else. Two weeks ago, Samantha's team reached out again and said something like, 'the world has changed and Samantha wants to meet and talk about finding our way to one another as people.' I said 'yes' this time." 
"I think both Samantha and I, probably for different reasons, are more focused on doing good than doing well. And though it took a little bit of time, as we spoke more and more, I began to trust her and her intentions. ... We decided the way we can help make America great again, is to be our better selves, to help one another, and to use our platforms to encourage people to be good again. ... I think today was a remarkable day ... Today I found a bit of hope."