White supremacists target Jewish community of Whitefish, Montana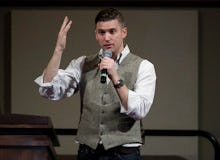 White supremacists across the country have focused their attention on Whitefish, Montana, thanks to one of the town's most prominent part-time residents: Richard Spencer.
Spencer, leader of the white nationalist movement known as the "alt-right" and founder of the far-right National Policy Institute, has ties to Whitefish through his parents, local residents Rand and Sherry Spencer. Now, their son's beliefs have turned a small ski resort community into the site of hate and bias-fueled controversy.
The origins of the Whitefish controversy
Spencer's connection to Whitefish has long been a source of contention for the small Montana town. Local newspaper the Daily Inter Lake reported that when Spencer began garnering national attention in 2014, the local Whitefish government responded by passing an anti-discrimination resolution "honoring the inherent worth of all people regardless of race, creed, national origin, sex or sexual orientation."
Earlier this month, the town took a firmer stance against Spencer's rhetoric, as a city council meeting included the reading of a recently approved proclamation that "repudiates the ideas and ideology of the founder of the so-called alt-right as a direct affront to the community's core values."
Spearheading these local efforts has been Montana-based activist group Love Lives Here, described on its website as "committed to co-creating a caring, open, accepting and diverse community, free from discrimination and dedicated to equal treatment for all our citizens."
Now, the group and Spencer have become embroiled in a controversy centered on 22 Lupfer Avenue, a mixed-use building with vacation rentals and ground-floor storefronts owned by Spencer's mother. Sherry Spencer, who wrote in a Medium post that she "poured her heart and soul" into the building, has blamed Love Lives Here for threats to her business and its tenants. She alleged in the Medium post that local realtor Tanya Gersh, who has ties to Love Lives Here, threatened protests and boycotts of the local businesses residing there if Sherry did not sell the building and denounce her son.
In recent statements, Spencer's parents have denounced their son's beliefs, but not Richard Spencer himself. In an opinion piece for the Daily Inter Lake, Rand and Sherry Spencer wrote, "As parents we love our son. ... We are not racists. We have never been racists. We do not endorse the idea of white nationalism." 
The alt-right leader has ties to his parents' properties, however: Until 2013, the official address for the National Policy Institute was Spencer's parents' Whitefish address, the Daily Inter Lake reported — though the Washington Post noted it's still listed as the principal office for the organization — and building documents report that Spencer was initially affiliated with his mother's building. 
Gersh corroborated her role in the controversy in an interview with ABC Fox Montana. In a statement to the network, Gersh wrote: 
[Sherry Spencer] is profiting off of the people of the local community, all the while having facilitated Richard's work spreading hate by letting him live and use her home address for his organization. ... [Sherry] could address this by selling the building, making a donation to human rights efforts, and making a statement in opposition to white supremacist ideas spread by Richard.
Gersh's views, however, don't seem to be those of Love Lives Here overall. ABC Fox Montana also spoke with organization co-founder Ina Albert, who declared she has no problem with Spencer's mother doing business in Whitefish. "We don't cause financial harm to anybody," Albert told ABC Fox Montana. "[Our issue] is the National Policy Institute, and what that stands for, and our town being smeared by his philosophy."
"Love Lives Here has never promoted the idea of a protest or a boycott of a building," organization chairman Will Randall told the Missoulian.
According to the Daily Inter Lake, as a result of the controversy, Sherry Spencer will be selling her property at 22 Lupfer Avenue.
White nationalist response
This local controversy, however, has now stretched far beyond the Montana border. In response to Gersh's actions, some of Spencer's supporters are seeking revenge — and naming names.
Among the "handful" of articles published on neo-Nazi websites in response to the controversy is a piece on the Daily Stormer by Andrew Anglin, whom the Southern Poverty Law Center describes as a "prolific Internet troll and serial harasser." 
In the article, Anglin specifically targets several female activists involved with Love Lives Here, along with their family members, including a rabbi married to one activist and another woman's young son. The article includes contact information for the targeted Whitefish residents, including phone numbers, email addresses and social media profiles.
Most terrifying, however, is what binds these targets together, beyond their role in the Spencer controversy: their Jewish faith.
The article, entitled "Jews Targeting Richard Spencer's Mother for Harassment and Exortion. TAKE ACTION!" uses anti-Jewish slurs and describes the Jewish people as "a vicious, evil race of hate-filled psychopaths." The Daily Stormer, the Washington Post noted, also includes a tab on its website labeled "Jewish Problem."
Anglin calls on supporters to "hit [the named targets] up," asking "Are y'all ready for an old-fashioned troll storm?" In addition to harassing the named Whitefish residents, the piece also called on supporters to spam Love Lives Here and the Montana Human Rights Network.
And Daily Storm readers have heard this call to action. The Post noted that the targeted individuals and human rights organizations, as well as city council members, have received death threats since the article was published. Local businesses in support of human rights have also been harassed.
"It's exactly what they called for," Rachel Carroll Rivas, co-director of the Montana Human Right Network, told the Washington Post. "They called for an online troll storm and that's what it is. It is very personal and incredibly anti-Semitic. These are tactics that are intended to instill fear."
Randall described the events as "gut-wrenching" to the Missoulian. "These are some of the best people around, and to see them attacked because they're Jewish or have a Jewish-sounding name is disgusting."
The targeting of Whitehead's Jewish population is even more chilling in the wake of Spencer's last moment in the national media spotlight, reported by the New York Times, when he spoke at a November alt-right conference in Washington D.C. Emboldened by President-elect Donald Trump's recent victory, Spencer quoted Nazi propaganda and declared that America belonged to white people.
"Hail Trump!" Spencer called as he finished his speech and audience members raised their arms in a Nazi salute. "Hail our people! Hail victory!" — a call that, the Times noted, is the English translation of "Sieg Heil."
In the wake of Spencer's November speech, the U.S. Holocaust Memorial Museum offered an alarming warning that now only rings more true: "The Holocaust did not begin with killing; it began with words."