KFC introduces a beautiful finger condom to protect fried chicken lovers from grease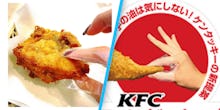 It's the classic omnivore's dilemma: finding a decent way to eat fried chicken while avoiding greased-slicked fingers that inevitably cause grease-slicked pants. (Using a fork is, of course, an unacceptable solution.)
KFC locations in Japan now offer its customers a fix, called the "finger nup," short for "finger napkin" RocketNews24 reported. But, admittedly, "finger pants," or even "finger condom," would be a better fit. A slender plastic film encases the thumb and forefinger — the digits most used to pull meat from the bone — acting as a glove, so customers can devour their fried chicken mess free. 
It looks something like this:
The sanitary coverlets were distributed to 222 KFC stores in Japan on Dec. 15, according to a press release, and will make their way to many more locations in the future. The timing was right, as eating at KFC on Christmas has evolved into an incredibly popular tradition in Japan, thanks to some astronomical advertising that took off in the 80s.
KFC has pulled some pretty senseless marketing stunts this year, from fried chicken-scented sunscreen to a candle of the same aroma, but the "finger nup" seems like one of the first novelty KFC inventions that actually serves a purpose. 
The practicality of the finger nup serves a need beyond messy chicken fingers: Imagine the liberating feeling that would come with snacking on Cheetos, protected by the nup. How safe would you feel, delicately plucking Doritos or oily potato chips from their respective bags or, heck, even holding a melty ice cream sandwich through the barrier of the finger nup? 
The uses are endless for anyone who prefers their food to be simply good, over finger-lickin' good.