The ultimate guide to Christmas morning breakfast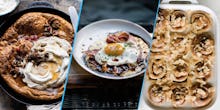 'Twas the morning of Christmas and all through the house, you were sick of rhyming Christmas stories and ready to feast on breakfast! 
You only get one Christmas breakfast a year — make it count! These special recipes for sweet and savory morning dishes can be part of a festive breakfast spread or stand on their own as the best Christmas breakfast you've ever had. Here's what to cook for Christmas morning.
If you're dreaming of a sweet Christmas breakfast... 
Eggnog French toast with raspberry sauce
Use the rest of Christmas Eve's eggnog for this sweet and decadent French toast you can only have once a year. Get the recipe here.
Gingerbread man French toast
All it takes is a cookie cutter and some croissants to make this adorable French toast, to be decorated right before you eat. Get the recipe here.
Coconut cinnamon buns
>>Add some tropical flare to a warm breakfast. Get the recipe here.
Pumpkin pie oats
Pie for breakfast? Oh yes. These nut-studded pumpkin pie oats are an arguably healthy way to start your Christmas full of fiber and natural sweetener. Yum! Get the recipe here.
Sweet potato pie dutch baby
No need to even plate this giant skillet full of pie-like pancake when everyone can just dig in with their spoons! Get the recipe here.
Chocolate bubble waffles
You'll need to ask Santa for a special bubble waffle maker to create these gorgeous chocolate-covered breakfast treats. Get the recipe here.
Gingersnap breakfast risotto
Cookies and rice for breakfast? It must be Christmas! Get the recipe here. 
Hot chocolate pancakes
What goes better with a steamy morning mug of hot chocolate than marshmallow-topped pancakes? Nothing! Get the recipe here.
Gingerbread granola
For a healthier twist to Christmas morning, or at least a healthier supplement to the rest of your decadent dishes, whip up this gingerbread granola, which also makes a great gift on Christmas Day! Get the recipe here.
Cinnamon roll wreath
So festive! So sweet, warm and delicious, this wreath will be gone before you even begin unwrapping presents. Get the recipe here.
If you're dreaming of a savory Christmas breakfast... 
Slow cooker cheesy breakfast potatoes
If you want to wake up to a ready-to-eat gooey breakfast casserole, this is your cheesy solution to having a dish ready to scoop into a bowl while you gather around the tree. Put a poached or fried egg on top for added breakfast-ness! Get the recipe here.
Goat cheese grits with ham and red eye gravy
Whip up these cheesy grits and breathe new life into last night's holiday ham by eating it for breakfast with a savory coffee-based gravy. Get the recipe here.
Caprese avocado toast
This red and green avocado toast is perfect for nibbling under the tree on Christmas morning. Get the recipe here.
Rainbow spaghetti
Make like Buddy the Elf and treat yourself to some festive spaghetti on Christmas morning. Whether you top it with sweet or savory sauces is up to you! Get the recipe here.