Grammys 2017 Predictions: Record of the year will be a cutthroat race between pop queens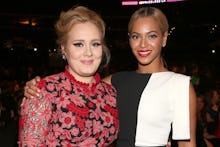 It's hard to find two songs more different and more deserving of the 2017 Grammys record of the year trophy than Beyoncé's "Formation" and Adele's "Hello." Honestly, how does a voter even go about judging them?
Does Beyoncé's interpolation of trap and ball-busting R&B offer a stronger artistic vision than Adele and her foul-mouthed balladeer elegance?
It's essentially an impossible task, but one that the Grammy Academy voters will have to face before the ceremony airs on Feb. 12, 2017. Here's how their votes will likely fall, based on past winners and the current climate within the Academy.
"Hello," Adele
Chance to win: Absurdly high.
Adele's 25, with its lead single "Hello," is like a Grammy voter's Venus de Milo. Almost everything about the song is perfectly tuned to appeal to the Academy's MO, like Adele and her team ran down a checklist of all the things the show generally awards. Simple, organic instrumentation, check. Stunning vocal performance, check. White artist and songwriter with a track record for appealing to a wide range of ages and tastes, check. Best of luck next year, everyone else.
"Formation," Beyoncé
Chance to win: Good, but most likely not good enough.
Beyoncé's "Formation" rewrote the rules for a hit R&B single in many ways. Released on a Saturday paired with a video that would have absolutely stolen the thunder of a lesser song, it's far more of confrontational than any R&B anthem nominated or awarded in recent memory. The main issue it faces going into the awards is a potential vote-split with Rihanna's "Work." RiRi's Caribbean-tinged anthem is far more radio-friendly, commanding the no. 1 seat on the charts for several weeks, while "Formation" only reached no. 10.
"7 Years," Lukas Graham
Chance to win: Pretty good.
Out of the two male nominees up for the award this year, Lukas Graham's "7 Years" is the more likely frontrunner. It's a clever tune with subtle melodies that are surprisingly catchy. Graham just doesn't have the name recognition, though. Anyone with an FM radio or Pandora pop station has likely heard "7 Years," but how many of those people could tell you who sings it, or what else he's done? In general, the Grammy voters use the big categories to honor industry mainstays and pop acts. He could easily grab a best pop duo/group performance trophy though.
"Work," Rihanna featuring Drake
Chance to win: Good, but most likely not good enough.
It took a little time for the world to realize the greatness of Rihanna and Drake's 8-bit Caribbean jam "Work." Released in late January as Anti's lead single, the song didn't hit no. 1 until close to six weeks later in early March. The song didn't generate as much controversy or conversation as Beyoncé's "Formation," but that might work in its favor for more conservative Grammy voters looking for a hip Adele-alternate.
"Stressed Out," Twenty One Pilots
Chance to win: Meh.
The only path to a win that Twenty One Pilots have in front of them is trying to play up the Macklemore & Ryan Lewis swagger that helped them take home four trophies in 2014. The trikes in the "Stressed Out" video are a good addition to that end. The Grammys love a white rap duo. Its voters will likely enjoy one that plays live instruments even more, but the record of the year category belongs to the queens this year.