Here's why mobile wallets are super convenient — and more than just a payment app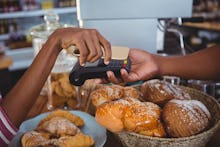 Science fiction author and visionary Arthur C. Clark posited that "any sufficiently advanced technology is indistinguishable from magic." Accustomed as we've become to waving our phones like wands over digital scanners to pay for everything from lattes to holiday gifts, mobile wallets do have a certain magical quality.
But mobile wallets are more than just the latest way to make payments with your phone, à la Apple Pay or Android Pay. As the underlying technology behind mobile payments becomes more prevalent, sophisticated and secure, banks and retailers are building innovative wallet apps and services based on the same principles of the actual billfold in your back pocket: convenience, storage and security.
In the seven years since Starbucks introduced its payment app, consumers have adopted the mobile payment habit quickly. But while the Starbucks app uses the relatively basic QR code technology, the proliferation of the Apple and Android payment platforms has made near-field communication (NFC) and Bluetooth Low Energy (BLE) — which powers so-called beacons inside phones — standard among the growing number of retailers equipped for mobile payments.
These same technologies are powering several current features of the mobile wallet apps out there — and point the way toward innovations on the horizon.
Event Tickets and Boarding Passes. Eventbrite, Ticketmaster, Fandango and Live Nation Tickets all have apps that connect with mobile wallets to store virtual tickets on your smartphones. And no need to hit the airport kiosks. Most major airlines have apps that integrate with mobile wallets that can store your boarding passes, serving them up on your phone when you arrive at the airport.
Gift Cards. Slim down your wallet. Some mobile wallets can turn that stack of gift cards you're sure to get this holiday into space-saving data. By digitizing your gift cards, you won't lose them — and let them go to waste. More than half (51.6%) of those surveyed by Capital One Wallet say they've lost or forgotten about a gift card at some point. In 2015, an estimated $1 billion in gift card balances went unused. A mobile wallet can make sure you claim every penny and save precious room in your physical wallet.
Receipt Capture. Stop stuffing your wallet with credit card receipt origami. Some mobile wallet apps let you snap a picture of the receipt to track your spending. Depending on the store's policy, the image can also be used for returns and exchanges later on.
Instant Notifications. Activity notifications are standard with most mobile wallet apps, including prompting you when it's time to order prescription refills or pay a bill. The Capital One Wallet notifications can help you to track purchases in real-time, whether they're your own, other cardholders' — or an unauthorized user.
Loyalty Programs. It's not quite time to ditch all your loyalty cards, but soon. A small number of loyalty programs currently integrate with mobile wallets, including Ulta, Walgreens and Starbucks. But more are likely to pop up as companies heed consumer demands for the feature, particularly among younger shoppers.
Coupons. Retail mobile wallet apps are capable of storing the latest coupons as the app continually refreshes to replace expired coupons. Some can even apply them automatically when you check out. Coupled with in-store beacons that can sense the location of your phone, your mobile wallet can even give you instant discounts on the very item you're looking at. This little trick, however, is currently restricted to a handful of avant garde retailers, but is expected to spread in the next couple of years.
As usage of the mobile wallet expands, you can look forward to seeing your physical wallet lighten as items like credit cards, loyalty cards, gift cards, insurance cards and someday even identification cards, migrate to your mobile wallet.
Unless noted otherwise in this post, Capital One is not affiliated with, nor is it endorsed by, any of the companies mentioned. All trademarks and other intellectual property used or displayed are the ownership of their respective owners.