'Blade Runner 2049' is coming, and could finally reveal if Deckard is a replicant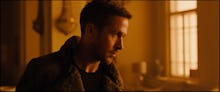 Whether or not one of the greatest sci-fi films ever made actually needs a sequel is ripe for debate, but either way we're getting a follow-up to Ridley Scott's Blade Runner in 2017. The sequel, Blade Runner 2049, released its first vague-yet-tantalizing footage Monday, introducing Ryan Gosling as the new lead character, K, along with our first look at Harrison Ford's Rick Deckard in decades. 
Here's the synopsis for the sequel, per Warner Bros. 
Thirty years after the events of the first film, a new blade runner, LAPD Officer K (Gosling), unearths a long-buried secret that has the potential to plunge what's left of society into chaos. K's discovery leads him on a quest to find Rick Deckard (Ford), a former LAPD blade runner who has been missing for 30 years.
While there's a lot to be said about Blade Runner 2049's stunning imagery — like the head of what we assume was part of a giant statue in sand, akin to the Statue of Liberty in Planet of the Apes — the biggest question for the film is, in fact, decades old. We could finally, officially, learn whether Deckard is a replicant.
Blade Runner fans can't reach a consensus on whether or not the original film's protagonist — an ex-detective tasked with hunting down rogue replicants, aka androids, that are hiding in Los Angeles — was secretly an android himself. There are a few clues in the film, and Scott has straight-up acknowledged that the character is intended to be a replicant. But Ford said he never got confirmation from Scott, and he played Deckard with the belief that he was human.
That would seem to set up the sequel to address the longstanding question, but Blade Runner 2049 director Denis Villeneuve has suggested otherwise. In an interview with French film site Allocine — paraphrased in English by the Playlist — Villeneuve said it was important that the sequel kept the replicant question a mystery and "not necessarily" address it outright. 
The one issue, as some fans have noted, is Deckard's presence in Blade Runner 2049 (and Ford getting, well, older) could pose a problem for the Deckard replicant theory. Replicants aren't supposed to age.
So despite Scott saying that Deckard is a replicant, leaked script pages from earlier Blade Runner drafts drawing the same conclusion and general cinematic clues, it appears Blade Runner 2049 could keep fans in the dark as to whether we can definitively confirm Deckard is a replicant. (But c'mon, he totally is.)
Blade Runner 2049 arrives in theaters Oct. 6, 2017. Watch the teaser trailer below.