Russian ambassador to Turkey killed in Ankara gun attack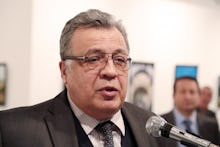 Andrei Karlov, 62, the Russian ambassador to Turkey, was shot and killed on Monday while in an Ankara art gallery, the BBC reported, citing Turkish media. Karlov was reportedly attending an event for an exhibition titled "Russia as Seen by Turks" when he was shot by a gunman who reportedly invoked the conflict in Syria as he fired.
Several other people were reportedly injured in the shooting, which happened one day after Turkish protests over Russian military involvement in Syria.
Initial reports indicated that Karlov had been taken to a hospital. Reuters later reported in a tweet that Karlov had died from his injuries.
(Editor's note: The following photos contain graphic imagery. View with discretion.)
According to the Associated Press, Karlov had been speaking at an "embassy-sponsored exhibition" on Monday when a man "wearing a suit and tie" fired "at least eight shots."
According to the BBC, the attacker said "Allahu Akbar" and "don't forget about Aleppo, don't forget about Syria" during the shooting. The AP, citing local outlets, reported Turkish police fatally shot the gunman. 
Speaking to reporters on Monday, Ankara Mayor Melih Gokcek called the attack a "heinous" attempt to disrupt Turkish-Russian relations, the AP reported. Gokcek also reportedly said in a tweet on Monday that the gunman was a police officer, according to the BBC.
According to Reuters, Monday's attack was connected to tension over Russia and Turkey's conflicting roles in Syria. 
"Relations between Moscow and Ankara have long been fraught over the conflict, the two supporting opposing sides," Reuters reports. "Turkey has been a staunch opponent of President Bashar al-Assad while Russia has deployed troops and its air force in support of the Syrian leader." Although the BBC reported that "the Turkish and Russian governments have been cooperating in the Aleppo ceasefire operation."
In a statement released on Monday after the attack, U.S. state department spokesperson John Kirby said, "We condemn this act of violence, whatever its source. ... Our thoughts and prayers are with him and his family," AP reported.
Dec. 19, 2016, 1:41 p.m.: This story has been updated.