The hottest tech accessories of 2017: Spectacles, AirPods, Pokémon Go Plus and more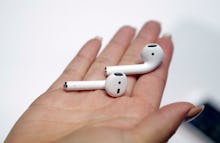 Tech accessories can often be just as important, if not more crucial, than tech gadgets. At their best, tech accessories can enhance the function of the products we use every day. 2016 saw a great deal of tech innovations, including innovative accessories. Below are five major add-ons from the past year which are actually worth checking out — they take tech devices to the next level, are relatively affordable and make great gifts for the holidays.
Spectacles by Snap Inc.
Social media addicts need to get their hands on one tech accessory this year: Snapchat Spectacles. The gadget — available in black, coral and teal — lets users take 30-second videos that are wirelessly added to your Memories on Snapchat after being broken down into 10-second videos. The glasses can take 100 10-second snaps per charge and can be charged in the case, which has up to four charges.
Google Daydream View
Google's Daydream View virtual reality headset and wand controller are comfortable and affordable. Made of lightweight fabric, the headset — available in the colors slate, crimson and snow — is 30% lighter than other VR headsets on the market. The headset works with Daydream compatible handsets like the Google Pixel.
LuMee Case
Selfie lovers will likely know the struggle of taking pictures in poor lighting. Enter the LuMee Duo case — a smartphone case that adds lighting for both front and back facing cameras. The extra lighting means your all your pictures will be well lit regardless of what the natural lighting is like.
Pokémon Go Plus
Pokémon Go was the hottest game of the year and it had players staring into their phones while they caught Pokémon in the real world. Nintendo released a wearable, Pokémon Go Plus, to accompany the augmented reality game. The wearable allows users to play the game without having to whip out their phone by connecting the small device to a user's smartphone via Bluetooth.
Apple AirPods
Apple enthusiasts should look into the Apple AirPods — small wireless headphones that promise to automatically turn on and to always be connected with all of a user's Apple devices. The device, which features 24-hour battery life, can sense when it is placed in someone's ears and connects immediately.