'Terry Crews Saves Christmas': When and where to watch the CW holiday special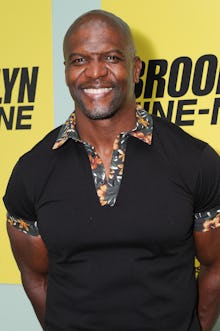 Brooklyn Nine-Nine fans are getting a little something extra this Christmas: Terry Crews will star in a four-day reality special called Terry Crews Saves Christmas starting Dec. 20 on the CW. Terry Crews Saves Christmas will feature the actor and former NFL star surprising families and assisting them with their holiday prep. 
"What we're trying to do is just take the pressure off and let people know that with a little planning, as busy as you are, and as impossible as this stuff may seem ... you can get so much more done in so little time and on budget, it will shock you," Crews told the New York Post.
When and where to watch
The series is made up of five episodes that will air Tuesday, Wednesday, Thursday and Friday at 8 p.m. Eastern on the CW. The fifth and final episode will air at 9 p.m. Eastern on Friday.
Don't expect Crews to muscle most of the DIY projects himself. He will have a support team of "elves" who are experts in food and design to help families with their last-minute cooking and decorating needs. These experts include chef Dean Sheremet and designer Vanessa DeLeon. As CinemaBlend points out, Crews will likely mostly be there for comic effect.
"I am a super Christmas nut," he told the New York Post. "I love the Christmas specials, I love the hot chocolate, I love the whole thing."
He added, "If Christmas has a spirit animal, it's me."