Electoral College Vote Dec. 19 Results: Electors officially elect Donald Trump president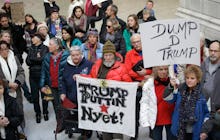 Donald Trump was officially elected president Monday, after the majority of electors in the Electoral College voted for Trump when they met at state capitols across the country.
Trump passed the 270 Electoral College-vote threshold needed to secure the White House shortly after 5:30 p.m. Eastern, when Texas voted, according to the Associated Press.
In fact, Trump got 304 of the 306 Electoral College votes he earned, with just two Republican electors defecting — both from the Lone Star State.
Trump is now cleared to be inaugurated on Jan. 20. And Congress is slated to officially certify the results on Jan. 6.
The vote came amid loud protests across the country from anti-Trump forces, who sought to convince electors pledged to Trump to defect in an effort to try and block him from winning the White House.
Those anti-Trump forces needed to convince 37 electors to break their vow in order to block him from receiving the 270 votes needed for victory, a number they came nowhere close to.
In some cases, state parties sought to crack down on potential faithless electors.
For example: In Georgia, one anti-Trump elector was pressured to resign prior to the vote, rather than vote against Trump. 
Another anti-Trump Republican elector in Texas also resigned.
At some state capitols, protesters sought to pressure Trump electors into casting their ballots for other candidates.
In Pennsylvania, after none of its 20 electors defected, spectators watching the vote chanted "shame on you!" according to Karen Langley, a reporter for the Pittsburgh Post-Gazette.
By press time, three Democratic electors — one in Minnesota, one in Maine and one in Colorado who pledged to Clinton — had tried to defect, but their votes were invalidated.
Four Democratic electors in Washington state also defected from Clinton, according to Washington's secretary of state.
In Clinton's home state of New York, her husband, former President Bill Clinton, was an elector who got to cast a ballot for her.