'The Affair' season 3, episode 6 plot details released: What will happen?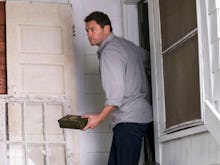 As soon as The Affair's credits roll and you hear Fiona Apple's haunting theme song, you know you're in for something bleak. We're five episodes into the third season of the Showtime drama about a series of intertwined relationships seen through different perspectives, and as of now there hasn't been much lightness. Perhaps that's the reason why the show will be on a two-week winter hiatus over the holidays, with the sixth episode airing on New Year's Day. 
What happened last episode
Episode five was an Alison and Noah episode, which saw them going back to Block Island where they had first begun their steamy relationship in the first season. This time, however, Alison is only agreeing to take the trip with Noah in exchange for him signing divorce papers. Their marriage had essentially been destroyed when Noah plead guilty to running over Alison's brother-in-law from her marriage to Cole; it turned out Noah's ex-wife Helen was the driver.
While Noah and Alison spend time together, Noah reveals something major: He helped his mother commit suicide when he was in high school. Her mental illness may also allude to Noah's paranoia as he believes he's seeing Gunther, the prison guard who tormented him and stabbed him in the season premiere.
What's ahead
After Noah's journey with Alison in episode five, it looks like episode six will again focus on him, but this time with Helen. 
The synopsis for the episode, which airs Jan. 1, reads:
An unexplained absence sends Helen on a journey of increasingly troublesome discoveries. Compelled to return to a place he's spent his life trying to escape, Noah attempts to repair his relationship with Martin.
There's also a teaser for the episode. 
From the teaser, we gather Helen may finally have to deal with her guilt for allowing Noah to take the blame for an accident she caused. Her mother thinks he's trash, their son Martin calls him a murderer  and only Noah's sister is skeptical that her brother was involved in the crime. Moreover, holding all that baggage probably makes it hard for Helen to move on with her new love interest, Dr. Vic.
Outside of Helen, the preview also shows Noah trying to bond with Martin, and a few short sequences between the two appear pretty tragic. It all culminates in what looks to be a major breakdown on Noah's part.
We'll have to wait another two weeks to see what leads to that final moment with Noah holding on to a baseball bat like it's the only thing keeping him alive. 
The Affair season three, episode six will air at 10 p.m. Eastern on Sunday, Jan. 1 on Showtime. The episode will also be available on demand the following day.