'Pokémon Go' Apple Watch Release Date 2016: Will the app launch this year as promised?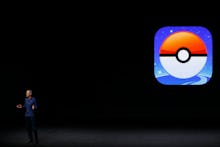 Despite a hoax that generated rumors to the contrary, Niantic on Saturday confirmed that a Pokémon Go app for the Apple Watch is still in development. Here's everything we know so far about the game's planned smartwatch release.
Pokémon Go Apple Watch Release Date: The hoax that worried smartwatch fans
On Saturday, redditor hi1307 posted a purported email from a Niantic customer support rep named NianticOpsLuke to the Pokémon Go subreddit. It claimed to be an official response to an inquiry about the Apple Watch version of the game.
"Unfortunately, the game port for the Apple Watch has been shelved," reads the fake email. "The Apple keynote represented an unfinished port. However, as a company, we have decided to stop development of the port."
Thankfully, it didn't take very long for the Silph Road, an online community of Pokémon Go players, to squash the rumor. 
"This is a hoax, travelers," redditor dronpes wrote. "OP is welcome to provide more information to us (with the email headers, etc.) and we will revisit our position on this, but until that point, we won't be propagating this information on TSR."
Pokémon Go Apple Watch Release Date: The app may still be delayed
Niantic announced the Apple Watch version of Pokémon Go at an Apple event held on Sept. 7. The Apple Watch version is meant to offer new functionality that provides physical fitness information to the user using the smartwatch's integrated sensors.
At the time, Niantic said that Pokémon Go for Apple Watch would be released this year. That gives the company 12 more days to deliver on its promised timeline. 
More Pokémon Go news, tips and tricks
While you wait for the Apple Watch version of the game, you may also want to check out Mic's Pokémon Go guides. Here are guides on how to catch Gen 2 baby Pokémon, the 98 Gen 2 Pokémon that have yet to be added to the game, how to catch Pikachu and his adorable new Christmas hat, post-update Chansey and Rhydon, everything you need to know about finding the long-awaited Pokémon Ditto, creating new PokéStops, how to maximize your chances of catching Pokémon and fresh information about how PokéStops distribute Pokémon eggs.