Who is Mevlut Mert Altintas? Turkish policeman killed Russian ambassador Andrei Karlov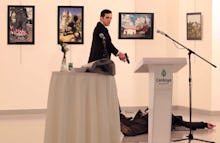 The lone Turkish gunman who assassinated Russian Ambassador to Turkey Andrei Karlov on Monday in Ankara has been identified as Mevlut Mert Altintas, according to Turkish newspaper Hurriyet Daily News. The Associated Press also corroborated the identity of Altintas, who was later gunned down by security forces.
A member of Ankara's riot police squad
CNN reported that Altintas, 22, was a police officer from the Soke district of the western province of Aydin. According to Turkish news outlet the Hurriyet Daily News, Altintas graduated from a police vocational school in Izmir and later served as a member of the riot police squad in the Turkish capital. Other sources indicate Turkish police raided Altintas' homes in the Aydin and Soke neighborhoods, while his mother and sister were taken into custody. 
Altintas was in plain clothes when he shot Karlov point blank during a photo exhibition, shouted in Turkish "Don't forget Aleppo! Don't forget Syria!" He then yelled, "Stand back! Stand back! Only death will take me out of here. Anyone who has a role in this oppression will die one by one," the AP reported.
As the name of the shooter surfaced, Turkish media began circulating pictures of Altintas, also identified as a member of the special ops unit: 
A global response
Following Karlov's death, Samantha Power, the U.S. ambassador to the United Nations, condemned the act on Twitter:
The State Department issued a warning on Twitter, warning U.S citizens to "avoid Embassy area until further notice."
Meanwhile, the Russian Embassy in the United Arab Emirates tweeted a picture of Karlov with a black ribbon imprinted on it, and issued a condemnation of the killing. "Moscow will make sure those behind the murder will be punished," they wrote.
U.S. Secretary of State John Kerry also issued a statement on Twitter:
The attack comes at a time when both countries had been making diplomatic strides after Turkish forces shot a Russian plane in the vicinity of the Turkey-Syrian border in November 2015.