The Best iPhone Games of 2016: From 'FIFA' to 'The Trail' and 'Final Fantasy'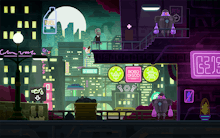 This year introduced a slew of terrific new games to play on the iPhone. Choosing the best of the year wasn't easy, but we've compiled some of our favorites that should suit fans of any genre. From quick single-session titles to pass the time on your commute, to in-depth adventures that will take hours to complete, here are the best iPhone games of 2016.
This adorable sci-fi title will satisfy fans of puzzle games and expansive adventures alike. Play as Kosmo, a novice space explorer in search of the missing parts of his robot girlfriend Nova, who is scattered across the universe. Visually stunning and packed with action, Love You to Bits is a great choice to start playing in 2017. 
Jet through this stylish arcade racer on your way to glory. Riptide GP: Renegade pits hydro jet racers against each other and the obstacle-laden urban waterways they navigate. Play career mode and rise through the ranks as you unlock new vehicles and characters. Or challenge your friends or strangers around the world online in multiplayer with up to eight racers.
Collect unique trading cards and pit them in battle in this silly title from Electronic Arts. An array of plants or zombies are available to you, each with distinct superpowers that can turn the tide of war against your opponents. Feel free to test out your deck online in multiplayer with your friends or competitive foes around the world. 
One of Sasha's arms has been amputated, but that's not stopping her from slashing her way through this gorgeous world full of dangerous monsters. In true RPG style, Sasha must search for her family by solving puzzles and defeating enemies to unlock new abilities in aide of the quest. Can you guide the one-armed hero through this fantasy wasteland? 
The beautiful game returns to the small screen in the form of FIFA Mobile Soccer. But make no mistake, this miniaturized version of the world's most popular sport is full of features like Ultimate Team and Attack Mode as well as online leagues and tournaments. EA managed to include 30 leagues, 650 teams and 17,000 players for complete authenticity.
The makers of the ever-popular Clash of Clans return with the debut of Clash Royale, a multiplayer trading card game fought in real time. Various troops, spells and defenses are up for grabs as you assemble the perfect battle deck to take down your rivals and reign supreme over the land. 
Determine the fate of your kingdom as you decide the choices that will shape its destiny. Swipe left or right throughout centuries of feedback from advisers, citizens and enemy factions as they test the balance of your reign. Each choice will have influence over the future of your family dynasty and the well-being of the church, peasants, army and treasury. What kind of ruler will you be?
The RPG classic has arrived on iOS, much to the delight of the franchise's dedicated fanbase. Final Fantasy for the iPhone is here just as it was on the PlayStation back in 2000. Relive the adventures of Zidane and his crew, complete with the cinematic cutscenes and engaging turn-based tactics. 
The Trail feels like a modernized version of Oregon Trail with the addition of user-controlled movement and stunning visual graphics. Explore, craft, collect, trade and discover on your way to the destination town of Eden Falls, where players can eventually settle down and build a community. It's the ultimate pioneering adventure.