Brock Turner sexual assault trial Judge Aaron Persky cleared of misconduct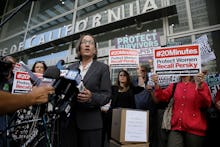 A judicial commission has ruled Santa Clara County Judge Aaron Persky, widely reviled for giving convicted sex offender Brock Turner a six-month sentence for sexually assaulting a woman behind a dumpster on the Stanford University campus, did not violate professional standards.
In an unsigned ruling, the Associated Press reported Monday afternoon, the California Commission on Judicial Performance wrote, "The commission has concluded that there is not clear and convincing evidence of bias, abuse of authority or other basis to conclude that Judge Persky engaged in judicial misconduct warranting discipline."
The CCJP received thousands of complaints about Persky during and following the trial, including that he "displayed gender bias and failed to take sexual assault of women seriously," the AP added. While the ruling means Persky will not face immediate professional consequences for the sentencing of Turner, he still faces an organized recall campaign, and a number of prominent state and local officials have called for him to resign his office.
"Today, Brock Turner is a free man," then-U.S. Senate candidate Loretta Sanchez told the Los Angeles Times in September. "And yet women who have been sexually assaulted are still prisoners of fear."
Despite being found guilty of three separate counts of felony sexual assault, Turner, 21, served only three months of his six-month sentence. Persky cited "extraordinary circumstances" and Turner's lack of prior trouble with the law as reasoning for the light sentence.
According to the LA Times, the judge has moved to civil court and no longer handles criminal cases.