The Best Rap Albums of 2016: Chance the Rapper, A Tribe Called Quest, Kanye West and more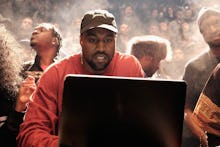 In times of great upheaval and tragedy, know that music will thrive. It's the best motivator, the best medicine; it always has been and always will be. Hip-hop seems especially poised to be a glimmer of hope and motivation in dark times. 
That inspirational impulse has been coded into the DNA of the genre from its very first classics up until now, where the genre is blossoming into a hundred different directions — some exploring the shade and darkness of human experience, others basking in the light. 
Some of 2016's best rap did both and came out as richer, more complete visions of the present for it. Here are seven of the year's finest hip-hop releases from seven very different artists that offer a glimpse at the vast range of sound that is hip-hop today.
Kendrick Lamar, Untitled Unmastered
It's hard to tell how much of the release of Kendrick Lamar's was premeditated and how much of it was a literal impromptu response to Lebron James tweeting at Lamar: "You have to release those untitled tracks asap!!! What's up? Talk to me." Either way, the fact that Lamar can release an album of half-finished, untitled, unmastered tracks (hence the album title) and still stun hip-hop critics is testament to the powerful position he holds in the genre. Even in one of his off years, Kendrick Lamar can still get a release together to parlay with the year's best.
Young Thug, Jeffery
Hip-hop's Willy Wonka, Young Thug's music seems to get more unpredictable and magical with every release. 
While this 10-track project was largely billed as a personal project looking at Young Thug's origins, borrowing the artist's first name Jeffery for its title, it's hardly the little autobiographical confessional some might expect. It's a mash of swagger verses yelped over a dizzying range of styles, ranging from the woozy, reggae of "Wyclef Jean" to the breathless, furious trap of "Harambe."
The rapper's weirdness never tires or feels forced. It all suggests that we may actually be witnessing the rise of a truly game-changing talent and not just a fluke with one refreshing quirk.
Vince Staples, Prima Donna
Simply put, the beat choice on Prima Donna is impeccable. It's something many critics uphold as his greatest talent and it's often the first thing to catch the first-time listener's ear. Vince Staples has a preternatural ability to take the most grinding, sparse, arhythmic beats and turn them into powerful, driving jams. But that power lies in his flows. 
His wordplay is biting, helping to keep the momentum high over clipped, acrobatic verses. Staples' Prima Donna is psychological thriller music, constantly subverting the listener's attempt to pin it into a certain category or class of rap release. Prima Donna points in about five different directions in which Staples could develop his sound, and all of them feel rewarding.
Danny Brown, Atrocity Exhibition
As its title suggests, Danny Brown's Atrocity Exhibition is a revealing look at all the disturbed thoughts that float through the artist's exhausted,  on a daily basis.
His fears of failure mixes with a sense of survivor's guilt that will not stay buried, mixes with the psychic disconnect that accompanies addiction and mixes with a feeling of helplessness to alter his headlong sprint toward death. It's a frightening cocktail of competing confessional influences, a series of journal entries seemingly written under the influence of a life-threatening amount of cocaine. Every word and beat feels electric, because they have to be. He puts so much of himself into his music, at times it feels like Brown were to stop writing, his heart stop might stop with his pen.
A Tribe Called Quest, We Got It From Here... Thank You 4 Your Service
A Tribe Called Quest set a new standard for the old head rap album in We Got It From Here... Thank You 4 Your Service. Despite having a rocky 18-year span between this and their last album, Q-Tip, Phife Dawg and Ali Shaheed Muhammad are operating at peak chemistry again. It's an album filled with wisdom that could seemingly only be accumulated through years of trying to translate life's myriad experiences into rhyme. 
The songs seem to look beyond the politics of the day, addressing the racist, classist, uninspired state of American society and culture that would have persisted no matter who won the 2016 election. They're warnings and prescriptions spit over a perfectly balanced melange of Golden Age boom-bap and hip-hop's more odd ball present day beat-making. Start to finish, the album is a clinic for all other rappers currently working to tie off their legacy with a nice bow: This is how you assure yourself a place in a genre always looking for the next big thing.
Chance the Rapper, Coloring Book
Before Coloring Book, it was easy to write off Christian rap as a contradiction in terms, or a necessesarily watered down version of the genre. Chance the Rapper has changed that. It's an album that feels charged with faith, blessed by a power greater than Chance's own. Every aspect of the beats and verses couldn't just be beautiful, they had to flawless in order to capture a reflection of the divine. 
Coloring Book has the range. Songs of pure rebellious joy, such as "No Problem," are balanced by the wistful nostalgia of "Summer Friends" and the praise hymn reverence of "Finish Line/Drown." Each embodies the independent, no label, no mercy credo that Chance consistently hypes up in interviews. The album points toward a new future, in both the sonic and business sides of music. The problem is, there just may not be enough rappers talented, charismatic and brave enough to follow Chance into this unknown and make it work.
Kanye West, The Life of Pablo
Like most human lives, The Life of Pablo, is an ecstatic, tragic, at times joyous, at times unforgiving mess. It offers such a distinguished portrait of Kanye West, the restless artist who wants to remix all of culture into his own image, executed half with a sense of poignant realism and the other half as a symbolic rendering of the man's hopes and dreams. 
On one's first casual listen, it's difficult to understand how West's earnest pleas for peace and thanksgiving can coexist with the veiled hard-knocking "DMX feeling" threats present on songs like "Famous" and "Freestyle 4." These multiple competing influences, more often than not, simply amplify their opposite. After sinning in thought and nearly in deed on "FML," his dark prayers for peace on "Wolves" take on that much more of a life or death importance. 
That West's fame only seems to grow as his art gets more challenging and difficult to intimidate, seems a minor miracle in a year notably bereft of them.