Michelle Obama's last interview as first lady offers the hope we all need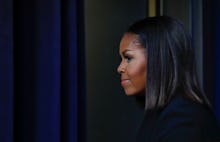 The finality of the Obama White House set in Monday as the Electoral College convened to cast ballots for the president-elect and CBS aired an hourlong interview between Oprah Winfrey and Michelle Obama, her final as first lady.
Obama talked to Winfrey about the most painful moments of the last eight years, raising children in the White House and where she hopes to have made the greatest impact. She acknowledged the fears of many Americans about the election of Donald Trump, but stressed the importance of having hope for the future.
"See, now, we are feeling what not having hope feels like," she said to Winfrey in front of a fireplace at the White House. "Hope is necessary — it's a necessary concept. What else do you have if you don't have hope? What do you give your kids if you can't give them hope?"
The Obamas have spread this message since Barack Obama first announced his candidacy for president in February 2007. It carried him through two elections and eight years of wrangling with Republicans who nearly opposed the administration's every move. As minorities and women gird themselves for Trump — who has promised to overturn Roe v. Wade, deport 12 million undocumented immigrants and set up a registry of Muslim immigrants — it feels all the more characteristic of the Obamas' belief in Americans' better selves: At a moment of national despair, Obama's remarks show what "when they go low, we go high" looks like in action.
Obama's candor, of course, has not always served her well in the national spotlight. During the 2008 election, she admitted she was reluctant to be on the national stage as first lady. It would soon become clear why.
"For the first time in my adult life, I am really proud of my country because it feels like hope is finally making a comeback," Obama said at a stop in Wisconsin ahead of the primaries in 2008. Critics lambasted her, marking the first time she faced a backlash for speaking the truth in the coming years. She was called an "angry black woman," a caricature that haunts her today. A graduate of Princeton and Harvard universities, she was called "Obama's baby mama," one of her husband's "cronies of color" and has been dismissed as uppity.
"That was one of those things that you just sort of think, dang, you don't even know me, you know?" Obama said. "You think, 'That is so not me!' But then you sort of think, 'Well, this isn't about me. This is about the person or the people who write it.'"
But Obama told Winfrey she hasn't held on to "the bad stuff." She pushes those challenges to the back of her mind, "a defense mechanism" that she has fallen back on her entire life.
"There is so much that comes at us all the time, every day, in subtle ways that could tear your soul apart if you let it," she said. "But my mother always taught me that you better keep it moving. You better brush it off and keep it moving."
Over the last eight years, she became more comfortable in the first lady role. Americans watched as she settled into mom-in-chief duties, working to inspire young women and girls, encourage healthy living for kids in the country and to raise children who appreciate the privileges that come with being the first kids. Many saw her as relatable and authentic, and her approval ratings remained high throughout the administration. In a brief cameo, the president praised the first lady's efforts over the last two terms.
"We all knew she was brilliant and cute and strong and a great mom," Barack shared. "But I think the way she blended purpose and policy with fun so that she was able to reach beyond Washington, on her health care initiative and her military family work, it was masterful."
Obama said she reveled in knowing that young people, "particularly young black women," she said, were seeing someone "educated, strong, outspoken" on a regular basis. Yet even in this interview with Winfrey, with another powerful black woman, she strayed from focusing too much on race and how it may have provided particular challenges for her and her husband. Race, Obama said, plays "too much of a role in how we see one another."
"It's sad because the thing that least defines us as people is the color of our skin," Obama said. 
For many black men, women and children, though, seeing the Obamas in the White House fueled optimism: If a black family could make it to 1600 Pennsylvania Ave., they too could make it in the world.
"Images, experiences can be life-changing particularly for kids," she said. "To see the joy, the tears, you know you've changed their lives for ever."
Perhaps it is why many hope she'll run in 2020. Yet Obama reiterated in the interview she would never run for elected office. Again, Obama gives it to us straight.
"If I were interested in it, I'd say it," she said. "I don't believe in playing games. It's not something I would do, but it also speaks to the fact that people don't really understand how [being in the White House] is."
But from afar, Obama made the hard work seem effortless, as though she sprinkled a little black girl magic, giving us hope for whatever is yet to come.