President Obama commutes 231 nonviolent drug offenders' sentences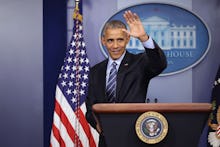 President Barack Obama pardoned 78 people who had been convicted of nonviolent drug offenses and reduced the sentences of 153 other individuals on Monday, bringing his total number of such pardons to 148 and commutations to 1,176, the Washington Post reported.
The pardons and commutations are part of a sweeping initiative to release prisoners convicted under harsh, punitive drug laws enacted in prior eras. The 231 people granted clemency on Monday by Obama is the "largest single day act of his presidency," according to CNN.
Many of those benefiting from the administration's review were sentenced to lengthy, sometimes lifetime sentences for nonviolent drug offenses. In the decades since the prisoners were sentenced, public attitudes on drugs have shifted dramatically, with a majority of Americans now saying drug use should be treated as a public health concern rather than a purely law enforcement issue.
The White House touted Obama's decision by noting he has commuted the sentences of more people than the past 11 presidents combined.
"The 231 individuals granted clemency today have all demonstrated that they are ready to make use — or have already made use — of a second chance," White House Counsel Neil Eggleston said in a statement, according to CNN. "While each clemency recipient's story is unique, the common thread of rehabilitation underlies all of them."
But while the number is significant, the commutations will barely make a dent in the size of the U.S.' federal prison system, which currently has 190,058 inmates. Combined with the sprawling state prison and local jail populations, the U.S. has an astonishing 2.2 million inmates, or the highest incarceration rate among all developed countries.
Republican President-elect Donald Trump ran on a tough-on-crime platform and is unlikely to continue the commutations upon assuming the presidency in late January, thus increasing the urgency for them now. Some progressives have urged Obama to hasten the pace of the project, and Obama originally said he may issue as many as 10,000 commutations —  a far greater number than the 1,176 who have received one so far.