Berlin Christmas Market Attack Update: Police may have had wrong suspect in custody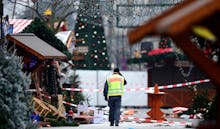 A tractor-trailer slammed into a busy Christmas market in Berlin, Germany, on Monday, killing at least twelve people and injuring around 50 more. On Tuesday, the Islamic State took responsibility for the attack through its Amaq news outlet, Reuters reported. 
Shoppers had almost no time to react as the trailer, traveling at nearly 40 mph down the busy street, made its way through the crowd. Officials close to the investigation consider the attack to be deliberate, and many have called it an act of terror.
Here's what we know so far about this devastating attack on shoppers in Berlin.
Who drove the vehicle 
Police apprehended a man they believed to be the driver of the vehicle less than two miles away. He is an asylum seeker known as Naved B according to authorities, and is believed to be a Pakistani national who entered Germany under a false name in Dec. 2015, part of a massive influx of migrants who entered the nation at that time.
But authorities were also cautious about the suspect, suggesting that they may have apprehended the wrong person. "It is in fact uncertain whether that really was the driver," Berlin Police Chief Klaus Kandt said.
The truck he was driving was from Poland, and the original driver of the truck was found dead in the passenger seat, suggesting that the vehicle itself was hijacked.
Police raided an unused airport that is serving as a temporary shelter for refugees at 4 a.m. German time. 
Reaction from leaders
"We don't know anything for certain, but we must assume it was a terrorist attack," German Chancellor Angela Merkel said in a statement. 
Leaders from around the world were quick to condemn the actions of the driver. 
United States President Barack Obama spoke on the phone with Merkel on Tuesday, and "assured the German Chancellor that the United States would support Germany in the investigation," according to Merkel spokesperson Steffen Seibert. 
National Security Council spokesperson Ned Price also released a statement: "The United States condemns in the strongest terms what appears to have been a terrorist attack on a Christmas market in Berlin, Germany, which has killed and wounded dozens." 
President-elect Donald Trump left no doubts about how he felt, saying, "These terrorists and their regional and worldwide networks must be eradicated from the face of the Earth, a mission we will carry out with all freedom-loving partners."
In a tweet he added, "The civilized world must change [its] thinking!"
Other foreign dignitaries expressed support and condolences to the German people. 
President Hashim Thaçi of Kosovo sent out a tweet expressing shock and resilience to the attack.
French President Francois Hollande said that the people of France "share in the mourning of the Germans in the face of this tragedy that has hit all of Europe."
Foreign policies questioned
Merkel addressed concerns about the attacker's identity, stating, "It would be very difficult for us to learn that a human being committed this deed who came to Germany to ask for refuge and asylum. It would be terrible for all Germans who are very active, day by day, in helping asylum seekers and refugees."
Others weren't so reserved with their choice of words. Far-right French presidential candidate Marine le Pen said, "How many massacres and deaths will be necessary for our governments to stop bringing in a considerable number of migrants into our communities without borders, when we know that Islamist terrorists are among them?"
Frauke Petry, head of the right-wing Alternative for Germany Party, added that what happened in Berlin was an attack on "our freedom and way of life" and "our Christian tradition."
Dec. 20, 2016, 2:32 p.m.: This story has been updated.