Samantha Bee and Glenn Beck unite in anti-Trumpism, becoming "strange bedfellows"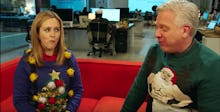 This year's presidential election took some surprising turns — like when Donald Trump won it — but one of the strangest footnotes was Glenn Beck. Against all odds, Beck has tried out "decency," as the New Yorker profile put it, which has led to "woke" Glenn Beck memes that are ultimately questioning the legitimacy of his ideological shift. 
It was enough, however, for Full Frontal host Samantha Bee to talk with Beck on her show and bridge the divide. After all, Bee noted that some people probably see her as an "ultra-liberal harpy paid by Killary to crap on everything decent in America." So the duo donned Christmas sweaters, acknowledged that their respective audiences hate said interview and went about finding common ground. Bee found one right away in uniting against President-elect Donald Trump. 
"I think that our future is going to require a broad coalition of non-partisan decency," Bee said. "It's not just individual people against Donald Trump — it's all of us against Trumpism." 
"As a guy who has done damage, I don't want to do anymore damage," Beck said. "I know what I did. I helped divide — I'm willing to take that. My message to you is: Please don't make the mistakes that I made. And I think all of us are doing it. We're doing it on Facebook, we're doing it on Twitter. We tear each other apart, and we don't see the human on the other side." 
To that end, Beck explained that he believes Bee has — like Beck in the past — adopted a "catastrophist" style that tends to exaggerate and overstate news bits. However, what Beck failed to acknowledge is that Bee hosts a late night show (it's not actual news) while he was once hosting on Fox News — even if his was pure nonsense. 
But hey, small victories, right? Beck made some fair points, and the weirdness that he was even interviewed on Full Frontal was not lost on either of them. To celebrate their peaceful accord, Beck and Bee shared a "strange bedfellows" cake and consummated it by eating the other's cake head. It was about as surreal as the rest of 2016. 
Watch Beck's interview with Bee on Full Frontal below: