'Pokémon Go' Update 0.51.0/1.21.0 Patch Notes: A night-and-day improvement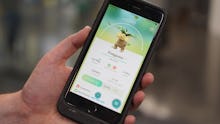 Niantic has made another incremental update to Pokémon Go, this time to enhance how the game blends the real world and the fantasy world of Pokémon. Wondering what's new? Here's a full rundown of the patch notes in Pokémon Go update 0.51.0 for Android and 1.21.0 for iOS.
Pokémon Go update 0.51.0/1.21.0 is a quality-of-life patch
A "quality-of-life patch" is like a general improvement that doesn't add anything flashy to the game, but these patches really add to the game's quality over time.
The biggest change here is that Pokémon Go will now better reflect the player's real world time by switching between day and night display more accurately. It's a small update that might still be a big deal. Generally, in an augmented reality game, the better the game world meshes with the real world, the better the game. So this update to Pokémon Go's day and night cycle is a small but very cool improvement.
Pokémon Go update 0.51.0/1.21.0 also makes minor text adjustments and fixes a vibration notification error. Nothing to get excited about, but nothing you're not glad to see updated, either.
More Pokémon Go news, tips and tricks
If you're updating Pokémon Go to the latest version as we speak, you may also want to check out Mic's other Pokémon Go content. Here are guides on how to catch Gen 2 baby Pokémon, the 98 Gen 2 Pokémon that have yet to be added to the game, how to catch Pikachu and his adorable new Christmas hat, post-update Chansey and Rhydon, everything you need to know about finding the long-awaited Pokémon Ditto, creating new PokéStops, how to maximize your chances of catching Pokémon and fresh information about how PokéStops distribute Pokémon eggs.