Is 'True Detective' season 3 happening? Everything we know so far.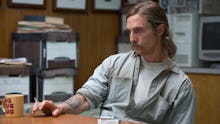 There is little question that HBO is currently (and has been for quite some time) the elite destination for quality original dramatic programming. Like most years, HBO recently nabbed the most Golden Globe nominations for any network, with 14 — led by best drama nods for both Game of Thrones and Westworld. Could HBO soon add a third season of the acclaimed series True Detective to its dramatic lineup? At least one actor says he would do it. 
Academy Award-winner Matthew McConaughey, who played the lead role of Rust Cohle in season one of True Detective, went on the Rich Eisen Show Friday to promote his upcoming animated flick, Sing. The attention, though, soon turned to True Detective. You can watch the clip below:
"You essentially said you wanted to play Rust Cohle when you saw the script," Eisen said of past comments by the actor. "You were originally going to go for [Woody Harrelson's character] Marty and then you were like, 'This guy Rustin Cohle really speaks to me'."
McConaughey agreed, interjecting, "Can't wait to hear what comes out [Rustin's] mouth."
Eisen then mentioned comments McConaughey made to him in June, discussing his willingness to return to True Detective. "I hear that all the time now," explained McConaughey. "'You said you were going to do season three. When is it coming?'" 
Of course, despite the apparent continued questions, the actor was sure to add that there has been no update on a third season. "I've talked to the creator Nic Pizzolatto, who's taking a little break from it," the actor added.
Should Pizzolatto, however, decide to return to the series, it sounds like McConaughey would jump on board. "If that thing was written well and it came up again, I wouldn't hesitate for a second," explained the actor. "Oh, I'm open to it for sure."
Mathew McConaughey's willingness to return to the series notwithstanding, there really is zero movement on a third season of True Detective. That is not to say it will not happen, but it remains unlikely. 
Will there be a third season of True Detective?
Through two seasons, True Detective has essentially been an anthology series, following different characters with entirely different storylines. The first season, starring Mathew McConaughey and Woody Harrelson, was near universally lauded, earning the actors a pair of nominations for their roles at both the Emmy Awards and Golden Globes. The show also was nominated for a Golden Globe for best miniseries and an Emmy for outstanding drama series.
True Detective's second season was not received nearly as kindly. The setting moved from the swamps of Louisiana to urban California, while McConaughey and Harrelson were replaced by Colin Ferrell, Taylor Kitsch, Rachel McAdams and Vince Vaughn in the lead roles. 
Variety's review of the second season noted that while True Detective was "generally watchable, the inspiration that turned the first into an obsession for many seems to have drained out of writer Nic Pizzolatto's prose." The trade magazine subsequently named the second season of True Detective one of the worst shows of 2015.
While Pizzolatto could one day decide to return to True Detective as a means of redeeming the series after season two, it certainly appears that is not currently the plan. In August, Deadline reported that Pizzolatto was teaming with Robert Downey Jr. to develop a series based on Perry Mason, with the actor slated to star as the defense attorney. 
The report stated that the series would air in short installments similar to True Detective's eight episode runs. If Pizzolatto is committing himself to a new HBO drama series, with a new headliner, and the presumption of multiple seasons, it seems unlikely that we will be seeing any more True Detective, at least any time soon. And honestly, that may be for the best. 
Please follow our main True Detective hub here.