How to get the NES Classic one last time before it sells out — again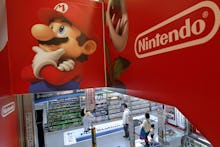 If you missed out on your chance to get Nintendo's wildly popular NES Classic Edition — a mini version of the original Nintendo Entertainment System — don't worry: There's still hope. 
The retro-inspired console will be sold at Best Buy stores across the country in limited quantities on a "first-come, first-served basis," on Dec. 20 for a one-day flash sale, according to the retailer's blog. 
"Just like on Black Friday, our stores will have a ticketing process for customers waiting in line. We will only pass out as many tickets as we have consoles available, and we'll have a limit of one per customer."
The announcement was enough to push some enthusiastic gamers to battle cold weather and early lineups to get their hands on the device. 
The NES sold out almost immediately when it was originally released on Nov. 11 and comes with a controller, HDMI cable as well as 30 pre-installed classic titles, like Super Mario Bros., Final Fantasy and Donkey Kong. 
Mic Essentials brings you handpicked deals, reviews, recommendations and gift ideas. For more ideas, see our lists for best fitness smartwatches, weed tech and vapes. If you buy something through a link on this page, Mic may earn a small commission.