The original 'Rogue One' ending was much different in a very simple way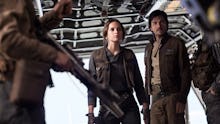 There was a lot said about Rogue One: A Star Wars Story and the extensive reshoots that preceded the film's release (which at the very least omitted a lot of scenes from earlier trailers). But whether or not some good footage was left on the cutting-room floor, Rogue One had a very satisfying ending that wasn't even part of the original script. 
Suffice it to say, we're really glad it changed, and we have to give props to Disney for a gutsy call. 
(Editor's note: Major spoilers for Rogue One: A Star Wars Story ahead). 
Speaking in a now-deleted podcast episode from Empire (it's supposed to come out Dec. 26 and they accidentally released it early, but some quotes were pulled by the Verge), Rogue One director Gareth Edwards said in the original Rogue One ending, all the main protagonists didn't die. Edwards didn't think Disney would allow him to kill off basically everyone, but he got the green light from Kathy Kennedy, the president of Lucasfilm. 
"We thought we weren't going to be allowed to, but Kathy and everyone at Disney were like, 'Yeah it makes sense. I guess they have to because they're not in A New Hope,'" Edwards said. 
Of course, not every Star Wars film should end on such a dour note, but Rogue One is an important exception. It's the first film of several upcoming Star Wars anthology films, and the first movie in the franchise to narrow its focus onto the ordinary heroes — not lightsaber-wielding Jedi — in the fight between the Rebel Alliance and the Empire. 
The ending is one of many ways Rogue One is such a refreshing change of pace; something we'd like to see from the franchise in the near future (looking at that Han Solo anthology film as a start). Disney has no reason not to: Rogue One got stellar reviews and had a huge opening weekend. 
Rogue One is currently playing in theaters. 
Mic has ongoing Star Wars coverage. You can follow our main Star Wars hub here.