Here's why Uber is on track to lose $3 billion in 2016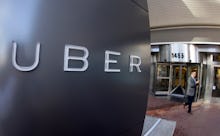 Uber may have lost more than $800 million in the third quarter of 2016, an unnamed source familiar with the matter told the Information in a report published Monday.
The company is private, so its financials are not public information, but according to the source, that figure is pre-tax. As Bloomberg reports, the loss puts the ride-hailing giant on track to lose $3 billion this year. 
Losing $3 billion is no joke — that's comparable to the entire market capitalization of companies like Buffalo Wild Wings and JC Penney.
Even within the bounds of Silicon Valley's "grow now, make money later" modus operandi, Uber is an outlier: Steep losses in the first half of the year meant the company grabbed the title of fastest money loser among all tech companies ever, Gizmodo reported in August.
So what gives?
Perhaps ironically, given the participation of Uber drivers in November's "Fight for $15" minimum wage protest: The lion's share of Uber's losses are reportedly coming from subsidizing and paying drivers. That might be one reason why the company seems so desperate to push into self-driving cars.
But Uber's autonomous vehicle effort has hit roadblocks as well, as one — and then reportedly another — self-driving San Francisco Uber car ran a red light in December.
Uber blamed human error in the first case and has refused to apply for permits to test its autonomous vehicles, despite demands from California regulators that the company get said permits — or pull its cars from the road.
There's also the pesky matter of the self-driving cars abruptly turning through bike lanes, which Uber acknowledged to the Guardian represents a safety flaw the company is currently trying to fix.
A representative for Uber declined to comment for this story.