'Why Him?' reviews: The good and bad from James Franco and Bryan Cranston's new movie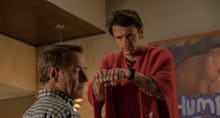 On Friday, a pair of Academy Award nominees will team up for a film being released in the prime of awards season. Those nominees: James Franco and Bryan Cranston. The film: Why Him? If you have seen the trailers or know anything about Why Him?, you can probably guess the flick will not be a major awards contender. 
The comedy's release comes just one week after Rogue One: A Star Wars Story opened to a ridiculous $155 million and days after a trio of big-budget films hit theaters: Assassin's Creed, Passengers and Sing. If there are moviegoers left after those new releases — and a likely huge second weekend from Rogue One — Why Him? may be the film to see.
Fox is positioning the comedy as light counter-programming featuring two highly accomplished actors more than capable of bringing the laughs. And the premise is simple enough: A father meets his daughter's eccentric boyfriend and laughs ensue. It has a similar feel to Meet the Parents or a less serious Guess Who's Coming to Dinner. But can the film live up to such comparisons?
While Why Him? won't officially be released until Friday, reviews are starting to come in and they are, at best, mixed. As of this writing, Why Him? holds a 33% on Rotten Tomatoes. Check out some excerpts from the more positive reviews below:
Edward Douglas, New York Daily News:
By the end, 'Why Him?' has ventured into some corny (yet sweet) territory in resolving its central conflict, but it throws enough laughs at the viewer that at least some of them land.
David Ehrlich, indieWIRE:
Franco, for what it's worth, completely owns this unfiltered register — he's great at layering an impossible degree of stupidity beneath a puppy dog innocence, and while it's never remotely believable that Stephanie would want to spend the rest of her life with a human cartoon like Laird, 'Why Him?' isn't dumb enough to forget that.
Owen Gleiberman, Variety: 
It's bluntly cheeky, it goes on for too long, but the concept keeps on giving. ... It's Franco, though, with his crackpot deviousness, who holds the movie in the palm buzzer of his hand.
Unfortunately for Why Him?, there were considerably more reviewers who were not as keen to give the film a positive appraisal. Here are some of the more negative impressions:
Andrew Lapin, Vulture: 
... 'Why Him?' finds the tech lifestyle endlessly amusing. But apart from some bits about a smart home and a painful cameo by Elon Musk, the film doesn't get its gas from the Valley itself, as much as from weak jokes about the stupid things that rich assholes spend money on.
Jesse Hassenger, AV Club: 
'Why Him?' takes a worse turn whenever the screenplay decides it has an emotional core — and that it emanates from the dudes, naturally. It's not surprising but it is tedious to see a movie that supposedly turns on both a father-daughter relationship and a boyfriend-girlfriend relationship toss both of those aside for long periods so it can better tend to the father-boyfriend bond.
Katie Walsh, Tribune News Service: 
The biggest problem with 'Why Him?' though, isn't him, it's her. Stephanie is so underwritten, that though these men are competing ruthlessly over her, she drops out of the story completely. She's the center of attention, but she's a void. That's not the fault of the winsome Deutch, it's that the writers haven't fleshed out her character, and she only has two modes, either bratty or exasperated, in which to work.
Guy Lodge, Time Out: 
There might have been a thorny dark comedy in this chauvinistic pissing contest. But in trying to get us to like both opponents, the film undercuts most of its sharpest comic potential, leaving us instead with musty jokes involving paper-free toilets and involuntarily witnessing one's daughter getting it on.
Alonso Duralde, TheWrap: 
'Why Him?' is the kind of movie that makes trendy sophistication and homespun values look equally unattractive; the only remaining alternative is anarchy, an ingredient that's sadly lacking in this bland, formulaic comedy.
Jon Frosch, The Hollywood Reporter: 
['Why Him?' is] so busy forcing its main characters through those elaborately crass set pieces — like meat through a grinder — that they have little room to develop any unexpected rhythms or textures. They're props rather than people.
Why Him? hits theaters Friday, Dec. 23.