More mothers than ever are the breadwinners in their households, report says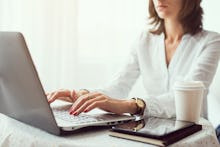 As the terribly boring and reductive "Can women have it all?" debate lurches on, a new report shows that more women than ever are proving that yes, women can in fact work and have a family.
According to a study from the Center for American Progress, 42% of mothers were the chief breadwinners in their households in 2015, while roughly a quarter of them acted as the co-providers for their families. Sarah Jane Glynn, the study's author, wrote that the findings are part of a broader trend where "women's earnings and economic contributions to their families grow in importance." 
Women are asserting themselves in the workforce — and it's fundamentally changing the structure of the average American family, she explained.
"With the majority of women working for pay, and their earnings being so vital to the economic well-being of their families, the days of full-time, stay-at-home mothers are long past," Glynn wrote.
However, it's important to examine the trends along racial and ethnic lines: Black women are the most likely to be the sole earners of their households, largely because they're more likely to be single mothers or, if they're married to men, they probably earn as much or more than their husbands. For similar reasons, Latina women were also more likely than white women to be the chief breadwinners in their families in 2015.
These groups of women, though, earn far less than their white counterparts. While white women earn roughly 82 cents to a white man's dollar, black and Latina women only make 65 and 58 cents, respectively.
And there of course remain certain barriers that disadvantage all women when they enter the workforce. Glynn called for the United States to beef up policies on paid family leave and paid sick leave, the absence of which she says "hold women back from reaching their full economic potential." 
In short, Glynn's rallying cry is: Let's get with the times.
"It is a testament to the hard work and tenacity of women that they have reached the level they occupy today," Glynn wrote. 
"However, there is far more work to be done to ensure that U.S. labor standards and workplace policies are updated to reflect the reality of the 21st century workforce and to ensure that the nation's public policies are in line with the needs of today's working families."