Best Apps for Apple Watch: we did the research so you don't have to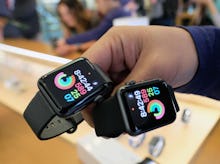 Thanks to the Apple Watch, you don't need to have your iPhone at hand to use your favorite Apple apps. Some apps work better than others when resized for the smartwatch, though. For example, Instagram is available on the Apple Watch, but do you really want to view the photos in your feed on such a tiny screen? 
Keeping that in mind, we've compiled a list of the best Apple Watch apps that effectively utilize the device's functions. These apps work particularly well from your wrist.
Uber for Apple Watch
Uber is one of the many Watch apps that helps you feel like James Bond. Instead of reaching into your pocket and entering a number of prompts, you can hail an Uber from your Watch in a matter of seconds. The app determines your location, gives you an estimate of your driver's arrival time and shows a map for tracking your driver's route in real time. 
Microsoft Translator for Apple Watch
You're on vacation in a foreign land. You need to ask a local for directions but you can't speak the language. You could pull out your phone or translation dictionary, but you don't want to look like a complete tourist. Enter Microsoft Translator. Speak up to 50 languages to the device and receive an instant translation without anyone even noticing. Plus you can bookmark recent translations for easy access if you need to repeat those phrases in the future.
Shazam for Apple Watch
When there's an amazing song playing, there's not a lot of time to grab your iPhone, unlock your screen, open the Shazam app and wait while it determines what you're hearing, so do it from your Apple Watch instead. Even if you aren't short on time, the wrist edition of Shazam does exactly what you need it to do — you can even read lyrics or buy music directly from your Watch. 
Lifesum
One of the Apple Watch's biggest draws is its emphasis on fitness, and Lifesum helps you nail one aspect of that. Exercising is important, but it's no good without proper nutrition. Lifesum will help you quickly log calorie counts and water intake to make sure you're the best version of yourself when you hit the gym.
Carrot Weather
This unique weather forecast app continues to find new ways to innovate. Now you can pull up summaries of current, 24-hour and 7-day forecasts with color-coded text to swiftly decipher weather conditions. Yellow translates to sunny weather and blue indicates incoming rain or snow. Plus, the app retains its hilariously sarcastic A.I. personality, which makes the simplest of queries legitimately entertaining. 
Citymapper
One of the best public transportation apps around has made its way to the Apple Watch. All the features you love from the iPhone version are here, including walking and mass transit directions, wait times, service alerts and live notifications to get off or transfer. It's extremely convenient — plus you can walk down crowded city streets without being that annoying person looking down at your iPhone for directions.