A plus-size transgender model just made history by landing a major fashion campaign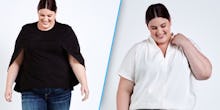 The year 2016 was a hallmark year for transgender women in fashion. In September, fashion weeks on the whole saw a huge influx of transgender models walking the runway. By the end of the year, transgender women like Hari Nef, Jazz Jennings, Andreja Pejic and Laverne Cox had been featured on magazine covers. 
So it's really only fitting that in the last few days of this year, trans models continue to make history. 
This time, it involves model Shay Neary, who is now the first out plus-size trans model to snag her very own fashion campaign. 
The campaign itself is for plus-size brand Coverstory, which specializes in modern silhouettes and is a favorite of models like Ashley Graham. 
In the campaign, as well as on the brand's website, Neary, 28, poses wearing relaxed silk blouses, capes and cashmere. 
According to Neary herself, she was shocked to get such a major campaign after such a short time modeling, having first signed with an agency (Transmodel, which she is no longer affiliated with) a short while ago.
"In my time at the agency, I was the only plus model, so not many campaigns were interested in booking me," Neary said in an interview with Mic. "They wanted the more European-looking girls, or androgynous girls. Not a bigger-framed woman like myself." 
Meanwhile, Coverstory was interested in casting a plus-sized trans model — and had been for a while now — but according to Coverstory's Heidi Kan, it was difficult to find a trans model above a size 6 or 8 working right now. 
"I searched everywhere," Kan, the founder of Coverstory, said in an interview. "I was very surprised to find out how difficult it was to find a plus-size trans model, since it's pretty easy to find straight-size trans models. When it was time to shoot for our second season, I found Shay through a new agency, 'Transmodel.' She was the only plus-size model. I was ecstatic when I found her." 
"She said, 'I think all women deserve to be represented. I've been looking for a trans woman for awhile now. I'm so glad I found you,'" Neary said of the casting. "And that was it." 
For Neary, being seen right now is vital to keeping the modeling industry diverse, and to showing people around the world that the lives of transgender people are diverse as well. 
"We have to all be seen. Not just some of us, not just ones who fit the transgender bill. Not just the streamline passable woman, or the plastic Kim [Kardashian] wannabe," Neary said. "We all have value and integrity. We deserve to be seen in mainstream media... Our lives have purpose."
What Neary's campaign highlights and what Neary speaks to directly is the fact that diversity in fashion involving trans models doesn't end simply with casting a slew of trans models, but trans models of color or trans models above a size 6, like Neary. 
Just like it's important to continue bringing diversity into straight-size, cis modeling and plus-size modeling, it's important to continue to diversify the trans modeling industry as well.
"Hopefully we start to see mixed runways, not just of race, but size and stature," Neary said. "Gender orientations, fluid individuals, non-conforming folks, all put into shows and ads. We ALL wear clothing, we all require things for different seasons, day/night, and life events. A range of price, a range of style, and actual design. Our lives are constantly happening, we need fashion and representation that moves like chiffon, not like burlap."