These are the celebrities who died in 2016 and how they'll be remembered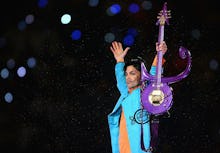 As is the case every year, 2016 saw the passing of many beloved celebrities in film, television and music. Here are some of the stars and producers who bid farewell not only to the arts and entertainment industry, but the world this year. 
David Bowie
The gender-bending songwriter and actor passed away at age 69 following a private battle with cancer. His death came just two days after the release of his final album, Blackstar. Bowie is best known for his innovations in glam rock, including the development of flamboyantly costumed personas like Ziggy Stardust, and for starring in movies like Labyrinth. He died on Jan. 10.
Alan Rickman
The British stage and screen actor died at age 69 due to complications related to cancer. Rickman was most familiar to younger generations for portraying Professor Snape in the Harry Potter movies, but he also had memorable roles in films like Die Hard, Robin Hood: Prince of Thieves, Truly Madly Deeply and others. He starred in multiple films with actress Emma Thompson, beginning in 1995 with Sense and Sensibility. He died on Jan. 14.
Prince
Singer/songwriter/producer Prince was found dead in his Minnesota home shortly after he'd apparently recovered from the flu and overdosed on mislabeled drugs. The 57-year-old artist was responsible for multiple chart-toppers and had a lengthy history of black activism in the music industry and, more recently, the Black Lives Matter movement. He also advocated for artists to seek control over the distribution of their music. He died on April 21.
Gene Wilder
The 83-year-old comic legend died due to complications related to Alzheimer's disease. His is best remembered for his performances in three Mel Brooks movies (particularly Young Frankenstein) and for his starring role in Willy Wonka and the Chocolate Factory. In addition to acting for stage and screen, Wilder was a director, screenwriter and novelist. He died on Aug. 29.
Garry Shandling
Comedian, actor, writer and producer Garry Shandling passed away at age 66 due to a rare condition known as hyperparathyroidism. His claim to fame was as the star of It's Garry Shandling's Show and The Larry Sanders Show. He was well-known for poking fun at the absurdities of showbiz. He got his start in showbiz by writing for sitcoms like Sanford and Son and Welcome Back, Kotter. He died on March 24.
Zsa Zsa Gabor
The glamorous Hungarian-American actress died of heart failure at age 99. Over the course of her long career, Gabor appeared in more than 60 made-for-TV movies and feature films, as well as TV shows that spanned from game shows to Westerns to Batman. She died on Dec. 18.
Leonard Cohen
The singer/songwriter died in his sleep at age 82 following a fall. The musician's catalog spans nearly 50 years following his switch  to folk rock from his early career in poetry and fiction. Cohen wrote such memorable songs as "Hallelujah" and "Suzanne," in addition to writing songs for Judy Collins, James Taylor, Willie Nelson and other musicians. He died on Nov. 7. 
Gwen Ifill
Gwen Ifill, who died at age 61 after a battle with cancer, was a political journalist and the co-host of PBS Newshour. In 1999, she became the host of Washington Week in Review, making her the first African-American woman to host a major talk show on American politics. She died on Nov. 14. 
Florence Henderson
Henderson died at age 82 due to heart failure. She is famous for playing Carol Brady, the iconic mother of the Brady Bunch family, from 1969 to 1974. She died on Nov. 24.
Anton Yelchin
Yelchin was only 27 when he died in a freak accident involving his Jeep rolling back and pinning him against the mailbox in his driveway. He played small roles in indie movies and assorted TV shows before his recurring role as Ensign Pavel Chekov in the new Star Trek movies. He died on June 19.
Alan Thicke
The TV actor died at age 69 following a heart attack he suffered while playing hockey with his youngest son. Thicke was best known for his role as Jason Seaver, the father on The Growing Pains. In real life, he was the father of pop singer Robin Thicke. He died on Dec. 13.
Doris Roberts
The 90-year-old actress passed away from a stroke and was slated to star in the movie Old Soldiers. Roberts was the film's third elderly cast member to die before production began. The five-time Emmy winner was best known for playing Raymond's mother on Everybody Loves Raymond. She died on April 17.
Garry Marshall
Marshall died from pneumonia after suffering a stroke at age 81. He will be remembered for directing such hits as Pretty Woman and The Princess Diaries. He also created several iconic TV series, including Happy Days, Laverne and Shirley and Mork & Mindy. He died on July 19.
Robert Vaughn
The star of Man from U.N.C.L.E. passed away due to acute leukemia at age 83. He earned an Oscar nomination for best supporting actor in The Young Philadelphians and also won an Emmy for his performance in the miniseries Washington: Behind Closed Doors. He died on Nov. 11.
Patty Duke
Duke died from sepsis caused by a ruptured intestine at age 69. As a teenager, she won an Oscar for best supporting actress for portraying Helen Keller in The Miracle Worker. At the time, she was 16 and the youngest person to win an Oscar. She died on March 29.
Juan Gabriel
The beloved Mexican singer died of a heart attack at age 66. As the leading singer/songwriter in Mexico, Gabriel was honored as person of the year by the Latin Recording Academy for selling more than 100 million albums. He was famous for his love ballads and mariachi music. He died on Aug. 28.
Sharon Jones
The soul and funk singer died from pancreatic cancer at age 60. The Grammy nominee recorded six albums with her band, the Dap-Kings. She died on Nov. 18.
Merle Haggard
The country singer died at age 79 due to pneumonia. Some of his most famous songs include "The Bottle Let Me Down," "Branded Man," "Sing Me Back Home" and "That's the Way Love Goes." His 2015 album with Willie Nelson, Django & Jimmie, debuted at No. 1 on Billboard's Country Albums chart. He died on April 6.
Abe Vigoda
The 94-year-old character actor died of old age in his daughter's home. He is best known for playing Sal Tessio in The Godfather and Phil Fish in the 1970s TV series Barney Miller. He died on Jan. 26.
Kenny Baker
The man behind Star Wars' R2-D2 died at age 81. He also played roles in The Elephant Man, Flash Gordon and Time Bandits. He died on Aug. 13.
Ron Glass
Long-time TV and film actor Ron Glass died due to respiratory failure at age 71. The Emmy nominee played NYPD detective Ron Harris on Barney Miller and preacher Derrial Book on Firefly. He died on Nov. 25.
Phife Dawg
The rapper died from complications related to Type 1 diabetes at age 45. He appeared on all five of A Tribe Called Quest's studio albums. In November, A Tribe Called Quest released the Trump-inspired album We Got It From Here ... Thank You For Your Service, which features verses from the late Phife Dawg. He died on March 22.
Christina Grimmie
The 22-year-old singer died in a high-profile shooting in Orlando at the hands of a disturbed fan. The Voice star got her start on YouTube. She died on June 10.
George Michael
The 53-year-old singer and gay icon died at age 53 due to heart failure. Michael was part of the duo Wham! before he departed on his solo career. In 1987, he released his first solo album, Faith. Due to the success of the album and a single by the same name, Michael became the first singer in nearly 20 years to achieve both the top-selling album and single of the year.
Carrie Fisher
The 60-year-old Star Wars icon died days after she suffered a heart attack while aboard a flight from London to Los Angeles. Though best known for her portrayal of Princess Leia, Fisher also appeared in The Blues Brothers, When Harry Met Sally, Postcards from the Edge and other movies. Shortly before her death, Fisher's book, The Princess Diarist, made headlines for revealing her affair with Star Wars co-star Harrison Ford. She died Dec. 27.
Debbie Reynolds
Hollywood legend Debbie Reynolds died on Dec. 28, just one day after the death of her daughter, Carrie Fisher. According to TMZ, Reynolds had a stroke while planning Fisher's funeral. Her son, Todd, told the outlet that Reynolds' final words were: "I want to be with Carrie."
Rest in peace to all of the celebrities who passed away this year. Your legacy lives on.
Dec. 29, 2016, 1:05 p.m.: This story has been updated.