10 New Year's Eve cocktail punch recipes that'll get you drunk on a budget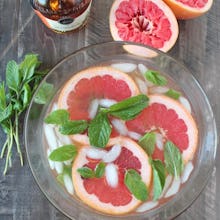 The year 2016 is wrapping up, and that's reason enough to celebrate. 
Before you go blowing all your money on fine Champagne to celebrate the start of a new year, consider going for a frugal, festive punch bowl this New Year's Eve to pad your budget and stretch your alcohol in the best way possible. 
If you've never served a punch before, make sure you have a bowl (or several) large enough to serve a group, a ladle to get that punch in a cup and plenty of cups (and maybe some markers for name tagging) so everyone can enjoy! 
Sorbets, sodas and plenty of booze in these punch bowls will get you and your party drunk on the cheap. Without further ado, here are 10 New Year's Eve punches worthy of ringing in 2017. 
Champagne punch
Stretch out that bottle of Champagne with some orange and pineapple juice for this super easy but elegant New Year's punch. Get the recipe here.
Grapefruit ginger spiced punch
Mint leaves and sliced grapefruit on top of this Champagne-based punch help your drink look extra festive. Get the recipe here. 
Boozy cranberry punch
It's still the holiday season and that means that everything cranberry-themed is a go! This easy batch cocktail will please a crowd all night long. Get the recipe here.
Pineapple citrus punch
Add some flowers to this tiki punch to brighten up any party! Get the recipe here.
Ferdinand and Isabella's punch
For a punch fit for royals, whip up a batch of this tea and citrus punch that serves 16 thirsty revelers. Get the recipe here.
Sparkling pomegranate punch
Sugar-coated rosemary and fresh pomegranate seeds make each flute of this cocktail special. Get the recipe here. 
Spiced tea punch
This seasonal iced tea punch can also be served warm (skip the ginger ale) or without rum, for those who may not be drinking. Get the recipe here.
Hot apple cider rum punch
Hand a mug of this hot punch to frosty guests at the door so they can immediately warm up to the party. Get the recipe here.
Spiced cider punch
This sangria-like apple cider punch uses white wine or sparkling wine to add a fun twist to the fruity drink. Get the recipe here.
Frosty mocha punch 
If it's a struggle to stay up until midnight for some, treat them to this chocolatey coffee punch, to be spiked with Kahlua, Bailey's or Frangelico, of course. Get the recipe here.