The only group with permits to protest Trump's inauguration so far is explicitly pro-Trump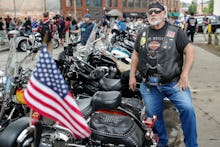 If the spontaneous protests breaking out in cities across the United States over the past month are any indication, Donald Trump's Jan. 20 inauguration in Washington, D.C., could be a historic flashpoint of demonstrations.
So far, though, nobody has permits for organized demonstrations on Inauguration Day. 
Well, almost nobody.
Only one group has been able to secure an Inauguration Day demonstration permit from the National Park Service — but they won't be there to protest. Instead, they'll be there to show their support for the president-elect. The group? It's Bikers for Trump.
The Bikers — whose leader said they also applied for a permit so up to 500 bikers to ride in the Inauguration Parade — asked the Park Service for a space for about 5,000 participants in John Marshall Park, right along the Inaugural Parade route. On Dec. 5, they had official permission to park their motorcycles and host speakers supporting the president-elect as he passes them by on Pennsylvania Ave.
Not only will they not be protesting Trump, but Bikers for Trump got its start as an outfit dedicated to antagonism against anti-Trump protesters. The group began in late 2015 as a squad of self-stylized hog-riding patriots who wanted to provide back-up security for Donald Trump after seeing videos of fights breaking out at Trump rallies — a volunteer security force to stand between Trump supporters and protestors.
"We're not looking for any fights," Cox told the New York Times during a documentary interview while attending a Trump rally. "We're here simply to stand with Donald Trump for his fellow supporters.
"And in the event that we have to provide extra security, we will."
Bikers for Trump founder Chris Cox — a sculpture artist formerly known as "Lawn Mower Man" — has a history of motorcycle-mounted conservative activism. Cox famously, after driving to D.C. from South Carolina, spent the 2013 government shutdown single-handedly patroling war memorials, picking up trash and maintaining the lawn around the Lincoln Memorial. 
So how did they get their permits ahead of everyone else? It's not an insidious conspiracy; in fact, it's a lot more simple than you probably think.
"The simple answer is that they applied for an area no one else had applied for," National Park Service representative Mike Litterst told Mic. "They talked to us before they submitted an application."
As for other protest groups, there are a few, like DisruptJ20, that have told Mic they intend to protest with or without permits. But Litterst says that permits are on the way, and that certain groups applying for event permits could get their approvals later this week — as long as the Inauguration Committee doesn't need the same space.