From Amandla Stenberg to the Victoria's Secret runway, natural hair slayed in 2016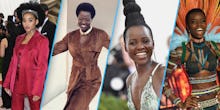 Women flaunting their natural hair is nothing new, with women like Nina Simone, Angela Davis and Grace Jones rocking it decades ago. But its prominence in 2016 is certainly noteworthy, not just by how many prominent women have worn it this year, but how the style has started a deeper, more meaningful conversation about being a black woman today. 
Prior to 2016, the conversation around natural hair was already brimming, with one model on the Victoria's Secret runway rocking her hair, and a few major magazines celebrating it as well. But this year, that was all kicked up a notch, from women on covers to women rocking runways to women and girls who aren't famous now being lauded with praise for their decision to rock their natural hair, even when that very decision came wrapped in controversy. There's even a budding online community to support women with natural hair as well. 
So let's look back at the seven best times natural hair slayed during this garbage fire of a year. 
Viola Davis on the cover of Elle 
Viola Davis has long been a champion of natural hair, rocking it on major red carpets, like the 2015 Emmys and Screen Actors Guild Awards, as well as at the 2012 Oscars, and even on her TV show, How to Get Away With Murder. 
"We have to take back everything that people said about us that was negative," Davis once told Mic. "Saying that your hair has got to be straightened in order to be formal. Your hair has got to be straightened in order to be beautiful. ... I am redefining all of that for myself and I say that all of it were lies. Anything anyone ever told me about myself was a lie. So I'm redefining it for myself now at the age of 51." 
In 2016, perhaps her most important natural hair moment was when she graced the February cover and inside pages of Elle rocking her natural hair. 
Looking like an earth mother sent from the future. An inspiration to us all. 
Jourdan Dunn on Vogue Brazil 
February magazine covers proved to be a major moment for natural hair across the world as well, with Jourdan Dunn sporting an Afro on two different covers of Vogue Brazil. The cover however drew criticism, with some not being fans of the model's distinctly different look, but we think she slayed. 
Amandla Stenberg on Teen Vogue
Rounding out February's remarkable embrace of natural hair, Amandla Stenberg graced the cover of Teen Vogue with a full head of natural curls. 
A vocal critic of all things culturally appropriated, Stenberg got real in the issue talking about the importance of embracing her natural hair, and how it's been empowering for her as a black woman. 
"I know when I used to chemically straighten mine, I did it because I wasn't comfortable with my natural hair," Stenberg said to Teen Vogue. "I thought it was too poofy, too kinky. So for me, personally, when I started wearing it natural, it felt like I was blossoming because I was letting go of all the dead hair and all the parts of me that had rejected my natural state." 
This entire bridal party 
For her big day, Nakyia Whitty wanted to make sure that her bridal party was coordinated in more ways than one. Their dresses were all the same shade of light beige. They all wore flowers in their hair. And all of the women's hair was in its natural state. 
"It was important to me as I value who I am," Whitty said in an interview with Mic. "I am so over hearing that the way my hair grows as a black woman can't be this or that. Even during the planning process I was told that I should straighten it for a more timeless and classic look."
But of course, Whitty knew that was wrong, and ultimately, the images of the wedding went viral. 
Lupita Nyong'o at the Met Gala 
Lupita Nyong'o doesn't disappoint on a red carpet. But while most people gush over her taste in dresses, like that one Cinderella-like light blue stunner at the 2014 Oscars, what's sometimes overlooked is that she's almost always rocking natural hair. 
At the 2016 Met Gala, Nyong'o made sure the focus was on her tresses, stacking her natural hair high on her head, with the help of some finessing and maybe even some extensions too. 
Vogue remarked that Nyong'o had drawn inspiration for the piled-high look from Audrey Hepburn, who posed with similar hair in the '60s. Although Nyong'o told Andre Leon Talley on the red carpet that she drew inspiration from Simone, Vogue was convinced. 
But Lupita, being Lupita, had to check them. In the days after the event, she shared her real inspiration behind the look: African women. 
So not only did she create an iconic red carpet moment, but took the moment to educate people too. 
Kerry Washington at the Emmys 
At the 2016 Emmys in September, Kerry Washington's dress made headlines thanks to the peek-a-boo slits that showed off her pregnant belly. But what was truly magnificent about this look was her mane of natural curls, which cascaded past her shoulders. 
Twitter couldn't get over it too. 
Obviously, the look worked. 
These ladies at the Victoria's Secret Fashion Show 
Last year, model Maria Borges made history when she became the first woman with natural hair to walk down the fame Victoria's Secret Fashion Show runway. This year, Borges was joined by three other models who also rocked their natural curls during the show. 
So there was Borges. 
And Herieth Paul. 
And then Jourdana Phillips. 
And then there was Alanna Arrington, who rocked her natural curls for her first time on the Victoria's Secret runway. 
A foursome of beautiful women who embraced their natural locks.
Since women with natural hair clearly rocked 2016, we can only guess that 2017 will be an even greater year for them too.