Why was the Russian ambassador to Turkey assassinated?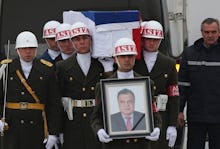 Andrei Karlov, the Russian ambassador to Turkey, was shot and killed Monday morning by a Turkish assailant who was upset with Russia's involvement in Syria, and Aleppo specifically.
The incident was recorded on video during Karlov's visit to an art gallery in Ankara, the Turkish capital. The assailant, wearing a suit and tie, burst into the gallery and delivered a series of gunshots around the room, injuring several and killing Karlov.
Who shot the ambassador?
A Turkish police officer by the name of Mevlut Mert Altintas was the lone gunman involved in the incident, authorities have said. 
Altintas, 22, was a member of the Ankara riot squad, and was shot by law enforcement officers during a standoff that lasted about 15 minutes, according to state-run media Anadolu Agency.
Why did he shoot Karlov?
Altintas was reportedly hoping to disrupt relations between Russia and Turkey, according to Reuters. 
During the shooting, Altintas shouted "Allahu akbar!" and "Do not forget Aleppo! Do not forget Syria!"
The Russian government has been widely criticized for its involvement in aiding Syrian President Bashar Assad's forces in Syria's ongoing civil war, and especially for its role the destruction of the city of Aleppo, a onetime rebel stronghold that Assad's forces recently secured with the aid of Russian aerial forces. 
The war has decimated a once-thriving city, and many people place much of the blame on Russia. No one has been spared in the attacks, including tens of thousands of children, according to death tolls from IAmSyria.org.
Response to the assassination
Secretary of State John Kerry, who is ordinarily critical of Russia and its involvement in Syria, made it clear that the United States condemned the violent attack. 
"Our thoughts and prayers are with his loved ones, the Russian people, and with the other victims who were injured in this shooting," Kerry said. "We stand ready to offer assistance to Russia and Turkey as they investigate this despicable attack, which was also an assault on the right of all diplomats to safely and securely advance and represent their nations around the world."
Russian President Vladimir Putin said the attack was "without doubt a provocation aimed at spoiling the normalization of Russo-Turkish relations."
Turkish Foreign Minister Mevlut Cavusoglu also responded to the attacks: "Both [Russia and Turkey] understand that this low act will not harm our relations," Cavusoglu said. "We will do everything to make sure of that."