'GTA 5 Online' Festive Surprise 2016: Is Rockstar still planning a Christmas DLC update?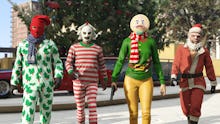 Christmas is almost here, but there's still no official news of a Festive Surprise 2016 update for GTA 5 Online. Is Rockstar Games still planning to unleash its usual holiday-themed DLC? Here's everything you need to know.
GTA 5 Online Festive Surprise 2016: What to expect from the Christmas DLC
Rockstar Games has a released an annual Festive Surprise update for the past few years, bringing the holiday season to GTA 5 Online. In 2015, the DLC included snowfall, making it possible to take part in snowball fights with friends and other players.
It also included new Santa outfits and festive pajamas, some creepy holiday masks and three Christmas-themed car horns. The update even placed Christmas trees throughout the game in apartments, stilt houses, yachts and at Legion Square.
For a taste of 2015's GTA 5 Online Festive Surprise, check out this YouTube video:
When will the GTA 5 Online Festive Surprise 2016 start?
Rockstar still hasn't confirmed plans for a Christmas DLC this year, but that doesn't mean it won't happen. In 2015, the company announced the update on Dec. 21, so we'll keep an eye out for any news on Wednesday and throughout the week leading up to Christmas. The holiday event typically lasts until early January, so you should have plenty of time to run around stealing cars and blowing stuff up while dressed as Santa Claus.
Of course, that's assuming the event happens at all. Like we said, we still haven't heard anything official from Rockstar Games. The company also just rolled out its Import/Export DLC for GTA 5 Online, so it's possible we may not get a Christmas update this year.
More GTA 5 Online tips, tricks and updates
Can't stand the wait for Rockstar's Festive Surprise? Check out more GTA 5 and GTA Online news from Mic, including our favorite cheat codes, a guide to making money in the online game and a rundown of the new Import/Export update.