'Super Mario Run' Android Release Date: What about 'Fire Emblem' and 'Animal Crossing'?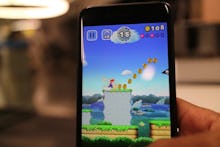 Super Mario Run's Android release date continues to remain shrouded in mystery. The app sits comfortably at the top of Apple's App Store in North America, while users on Google's mobile platform are still without Nintendo's first official game app. For Apple, the exclusivity window on Super Mario Run's release makes sense; iPhone and iPad users get access to the app and the company offers iOS users one more benefit to be on their platform. 
Looking to the future, Nintendo's partnership with DeNA to bring their games to smartphone platforms will also extend to series like Fire Emblem and Animal Crossing. We can't say for sure, as Nintendo has released little info on these games, but there's a chance these could also be exclusive to Apple products at first. Then again, Super Mario Run's disappointing early sales could push Nintendo to change course moving forward.
Super Mario Run Android Release Date: Will Fire Emblem and Animal Crossing have similar delays?
Nintendo first announced plans for Super Mario Run as a timed iOS exclusive at an Apple event in September. The Japanese gaming giant later confirmed that Super Mario Run on Android will make its way to market sometime in 2017, with no firm release date. Depending on whether Nintendo deems the launch a success or not, we could see the same happen with the upcoming Fire Emblem and Animal Crossing smartphone titles.
The details of Nintendo's exclusivity deal with Apple are unclear. It's possible this agreement could be confined to Super Mario Run, but there's also a chance that Nintendo already promised Apple that future apps would debut as iOS exclusives as well. If so, both Fire Emblem and Animal Crossing could hit the iPhone first. 
Super Mario Run Android release date delay could teach Nintendo to be cross-platform from the start
But there's still hope! Nintendo was able to gather $5 million in sales the first day of Super Mario Run's release during its first day of availability and likely has surpassed that number by now. CNBC projects that the game could see $71 million in profit this month. 
But the game's launch lowered Nintendo's stock by 7%, and it came out to less-than-stellar App Store reviews. Whether that's enough to convince Nintendo to try a cross-platform release for its next game is unclear, but we're hoping that's what happens.
More Super Mario Run news and reviews
If you want to know more about Super Mario Run, walk calmly toward Mic's latest coverage, like our review of the demo, an explanation for why the game isn't free, an advisory about how much data Super Mario Run will really use and a list of Android games to play while you wait.