The Legacy of Prince: Music, fashion, shade and more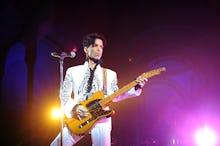 Out of all the celebrity deaths that rocked the world in 2016, the one that still feels hardest for the world to come to terms with is that of Prince. Many still haven't. Almost immediately after his death in April, rumors that he had faked it began to spread. Fans called out inconsistencies in the death reports and logged new sightings of the Purple One across the globe. 
"A talent who lived as loudly as Prince couldn't simply die so unceremoniously," this insistence on a possible hoax seems to assert. He was supposed to be immortal. These unbelievers will face the truth when they're ready.
"Prince ushered in a whole new wave of sound," said Bilal — an R&B singer responsible for one of Prince's most inspired tributes to date, which took place during the BET Awards — attempting to sum up the legend's legacy in a recent phone interview. "In terms of his relationship with electronics, songwriting — and in business. He brought a whole new integrity of artists manning the whole ship, and really fighting for that control. On a lot of different levels I feel he was an innovator, and fearless. He did it all so seamlessly and with a simple song."
Prince's impact sprawls over so many aspects of culture, from music, to fashion, to the legendary shade he could throw with a mere glance. This trifecta of creative prowess intertwined over the course of his life to make his every movement seem worthy of mythic retelling.
Music before Prince, and music after Prince
In textbooks attempting to explain 20th-century music to future students, few musicians will deserve their own chapter more so than Prince. That chapter should be printed on purple paper, with the numerals 2 and 4 replacing every instance of the word "to" and "for." That would help students immediately understand a few fundamental truths about Prince: He controlled every aspect of his image and production, and didn't pay attention to how radical or impractical his innovations were.
He pushed to realize a music without boundaries or labels. Even when talking about the holiest, most serious topics, his every musical utterance seemed to drip with sexuality. His songs rarely fit pop's standard man-loves-woman narrative; when he told a courtship tale, it was of two beings intertwining their essences.
"Tonight we make love with only words," As he crooned on "Lovesexy." "OK so like first I'll start by telling U how/ Intelligent a curve your behind has."
Similarly, he was never content to be known simply as a guitarist, a singer or a songwriter, or even all three. He had to be the world's best drum programmer, as Questlove has lauded him in past discussions attempting to demystify Prince's studio magic. The artist had to be a producer, a bandleader, a bassist.
"He would pick up drumsticks and show the drummer the beat; pick up a bass and show the bass player what the lick and groove are going to be and piece together a song in under 30 minutes," Scott LeGere, once an employee of Paisley Studios and now the head of music business at the McNally Smith College of Music, told Reverb. "Then he'd walk into Studio B and direct the horn section, and then make a phone call related to a tour matter. It was awe-inspiring to watch him talk to world-class players on their level about the minutia of music theory and music in general."
As such, he made musical decisions that people on those instruments never would've made otherwise — such as recording no bassline for songs like "When Doves Cry," somewhat of an unheard of blasphemy in funk and R&B at the time. It became one of his biggest songs and arguably more closely resembled the cold, mechanical nature of the relationship it describes.
Prince and his peerless fashion sense
No man could rock a ruffled blouse, a bellbottom or a set of heels like the Purple One. After his music, Prince's fashion was one of the most praised aspects of his unknowable character — though for many, the two couldn't and shouldn't be treated as separate impulses.
"He learned early on how little value to assign to someone else's opinion of you," Frank Ocean wrote in his Prince tribute on Tumblr, "an infectious sentiment that seemed soaked into his clothes, his hair, his walk, his guitar and his primal scream ... He made me feel more comfortable with how I identify sexually simply by his display of freedom from and irreverence for obviously archaic ideas like gender conformity etc."
His clothing choices were a natural expression of the freedom he sought to communicate through his music, as well as his erudite interviews. "A strong spirit transcends rules," as he once told Barney Hoskyns in 1999, quoted in 2006 Guardian article.
Prince's devastating shade
His fashion often put him at odds with the normies of the world, who seemed to see his fashion quirks as an easy way to shame him. It was dramatized in a Dave Chapelle sketch — in which Charlie Murphy tells a story of mocking Prince's habit of wearing a blouse onto the basketball court — and seemingly lay at the heart of his ongoing beef with Madonna. Cue his unrivaled clapback abilities, the perfect defensive mechanism for any flamboyant genius. 
He started developing it at a young age, when he would write out books of insults to have ready if the neighborhood bullies tried to belittle him. 
"The person that tries to play me plays themselves," as he once said during an appearance on the Travis Smiley Show.
No target was too holy. He shaded the songwriting of the King of Pop during an interview with Chris Rock, discussing his famously turning down an appearance in Michael Jackson's "Bad" music video.
"The first line of that song is 'Your butt is mine,'" he said. "Now I said 'Who's singing that to who? Because you sure ain't singing it to me and I sure ain't singing it to you.'"
Often he didn't even need to say anything at all, his raised eyebrow or side-eye would speak volumes.
The music world will likely be subtly reeling from Prince's sudden death for years to come. When that much talent suddenly quits the world, it takes time for musicians to fill the void. But his death in many ways reminded the world of what exactly it lost. Whatever respect Prince lost from his string of toss-off '90s albums or fruitless late '00s experimentation has been all but erased by the flood of tributes highlighting the countless innovations he introduced to music. Those albums are now finally starting to get the critical attention they deserve. The world seems ready.
Following his death, Questlove wrote out a list of 40 reasons why Prince was one of hip-hop's first innovators, to say nothing of how unrecognizable R&B would be had he never picked up his custom symbol guitar. We'll likely never run out of reasons to celebrate Prince's life, as every new perspective seems to find new ways his genius manifested. 
That's likely the way the Purple One would've wanted it. He demanded a lot from his interviewers, collaborators and fans; he needed them to match his passion. Thankfully, even now that Prince is gone, they still do.