How will 'Homeland' season 6 address domestic terrorism?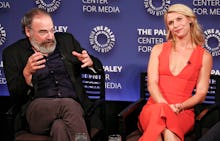 Showtime's hit political thriller Homeland is set to return for a sixth season on Jan. 15. The series has been a mainstay on the awards circuit, winning several Golden Globes and an Emmy for best drama. Homeland stars Claire Danes as CIA officer Carrie Mathison, a role that has earned the actress quite a few solo accolades, as well. 
While Homeland's early run largely took place stateside, the last few seasons have primarily dealt with terrorism abroad. Season four saw Mathison as a station chief in Afghanistan, while season five moved the action to Europe (primarily Berlin), with Mathison now working in the private sector.  
Season five featured a terrorist attack in Berlin carried out by a local ISIS terror cell. The events in Homeland's fifth season were written before, but aired after, the 2015 terror attacks in Paris. 
Roughly a month after the Paris shootings, Entertainment Weekly spoke with Homeland show runner Alex Gansa, who discussed the series' unfortunate similarity to real-life events. "I have to preface this by saying that I just wish our fiction hadn't hewed so closely to the fact of Paris," Gansa said. 
The producer added: "It was something that hit us all hard at Homeland. I was on my way to Berlin to film the big action sequence that will end episode 12 on the day after the Paris attacks; it was a bizarre time to be flying to Europe to film the finale of this season."
Homeland is moving to New York
It was reported in January that season six of Homeland will move the story stateside, with much of the action taking place in New York. Gansa explained to Entertainment Weekly that they scaled down the extent of terror in the upcoming season. Gansa referenced last season's tragic similarity to the events in Paris, stating: 
Last season, world events tragically caught up to the story we were telling...We knew we were going to New York and back to the United States. And didn't want to dramatize any threats to the United States — and to New York specifically — that don't actually exist. That was our first karmic principle this year. We're not going to posit that there are vast ISIS or Al Qaeda cells or networks in the United States like there are in Europe, because according to all our intelligence officers, there aren't any.
Homeland's story arcs have always, at least slightly, mirrored real life events, partially due to the off-the-record meetings with national security sources (per Entertainment Weekly). Gansa explained that "The threat we're facing right now are these do-it-yourself self-radicalized individuals — and that's a very different risk than another plot like 9/11."
So, rather than overdramatize domestic terrorism, Gansa said the Homeland team "made a very conscious choice to not tell a 'New York threatened by suitcase nuclear bomb' story. We just weren't going to do that. The thriller exists in a much more psychological way this year, and we're curious to see how people respond to it."
The aftermath of a presidential election
Part of what makes Homeland a compelling drama is the exploration of fictional events that are quite similar to current worldwide issues. While at times this can make for a difficult viewing experience, the series importantly shines a light on global troubles. 
Perhaps the most interesting element of Homeland's upcoming season is how it will address the nation following the 2016 presidential election. Over the summer, Entertainment Weekly reported that Homeland's sixth season will take place in the aftermath of its own presidential election. Specifically, Gansa stated: 
The whole season takes place between Election Day in November and the inauguration of a new president in January, during this strange and interregnum where a very fragile transfer of power takes place between the outgoing president and the incoming president-elect.
Gansa's statements seem to indicate that the post-election world of Homeland may not be all that different from the one we're currently living in. Homeland returns to Showtime on January 15 at 9 p.m. Eastern. 
Mic has ongoing coverage of Homeland. Please follow our main Homeland hub here.