Here are the 10 best Christmas movies of all time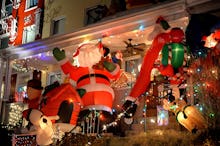 The holidays are here, which means gathering with your family around the dinner table, the Christmas tree and the TV for festive movie nights. Whether your parents' and grandparents' tastes lean more toward the old-fashioned and sentimental versus the modern and slightly sarcastic, there's no shortage of holiday films with which to warm up on a chilly night. In fact, choosing just one Christmas flick can be downright overwhelming — and then there's the concern of not wanting relatives to see your private Netflix queue. To make the holidays just a bit easier, we've narrowed down your search — here are the 10 best Christmas movies of all time. 
1) Miracle on 34th Street 
Everyone wants to return to the innocence of childhood during the holidays, but the bustle and business of shopping and travel can make that difficult. This movie, which follows the story of a man claiming to be Santa Claus, reminds even the most pragmatic of adults that sometimes, a little holiday magic can really happen. With a cast featuring the wonderful Maureen O'Hara and an adorably young Natalie Wood, Miracle on 34th Street is a must-see holiday movie. 
2) It's a Wonderful Life 
It's easy to feel overwhelmed and underappreciated at a busy office or hectic family gathering during the holidays, and It's a Wonderful Life is the perfect reminder of the importance of valuing one's own life, appreciating what others have done and expressing gratitude. And it makes the ringing holiday bells on street corners sound just a little sweeter. 
3) White Christmas 
This movie has everything: a patriotic message, dazzling musical numbers, amusingly mischievous best friends and some truly spectacular dancing — not to mention one of the most classic Christmas songs ever written. White Christmas will entertain everyone in your household. 
4) The Muppet Christmas Carol 
There's no shortage of movies about Charles Dickens' story of Ebenezer Scrooge and the ghosts who visit him on Christmas Eve, but this particular film features Michael Caine playing Scrooge alongside the Muppets! Who could resist Kermit, Miss Piggy and company playing Bob Cratchit, Tiny Tim and the Ghosts of Christmas Past, Present and Future? 
5) Rudolph the Red-Nosed Reindeer 
With the exception of maybe "Jingle Bells," "Rudolph, The Red-Nosed Reindeer" is probably the first Christmas carol kids learn. And in this childhood classic, Burl Ives narrates the film as Rudolph and friends go on a journey of self-discovery and search for acceptance. Rudolph's story will always be relatable — who hasn't felt like a misfit before, especially during the holidays? 
6) Home Alone 
If you're looking for something a little more salty than sweet, Home Alone is just the ticket. Starring a precocious Macaulay Culkin as Kevin, a boy who is accidentally left behind when his family travels to Paris for Christmas — along with Joe Pesci and Daniel Stern as the burglars attempting to rob his house — the movie is packed with slapstick comedy as well as some sweet family moments. Plus, Culkin lip-syncing to "White Christmas" remains adorable to this day. 
7) A Charlie Brown Christmas
This special first aired in 1965 but is just as poignant in 2016, as is its message about the dangers of overcommercializing Christmas and losing the true meaning of the holiday. Charlie Brown's sincere devotion to the holiday is admirable in his determination to purchase a real tree instead of a shiny, aluminum one. Besides, who could resist the movie's jazzy soundtrack? 
8) How the Grinch Stole Christmas!  
It's just not Christmas without the voice of Boris Karloff telling the tale of how the Grinch's heart grew three sizes in one day. No matter how old the viewer, this animated special from 1966 always entertains. 
9) Scrooged 
Moving A Christmas Carol into a (then) modern setting with Bill Murray as the leading man, Scrooged teaches ambitious TV executive Frank Cross a thing or two about the holidays and the importance of having empathy for others. It's not only funny, it's got a bit of schadenfreude as well. After all, who wouldn't want a boss who forces them to work on Christmas to get a ghostly visitor or two? 
10) National Lampoon's Christmas Vacation
Who can't remember a holiday where everything seems to go wrong, no matter how hard you try? All the poor Griswolds want is a "fun, old-fashioned family Christmas," but nothing really goes as planned. When watching from the comfort of your couch, those mishaps with the trees, lights and everything in between are amusing to everyone.