Toronto police seek "clean-cut" bank robber, suggest he may just be "down on his luck"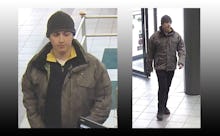 Toronto police are hunting for a five-time bank robber, but not just any bank robber: a "preppy" and "clean-cut" rascal whose grasp of grammatical structures, tidy look and adherence to a predictable schedule seems to have impressed officers. Their characterization of the so-called "Lunchtime Bandit" raises a few questions about double standards in law enforcement — namely, what a criminal is supposed to look like.
Police said the bandit, a "well-dressed" 20-something, isn't your typical criminal, and that he might just be "down on his luck." 
"Maybe he has never been in trouble before," Staff Insp. Mike Earl said at a news conference Tuesday. "Maybe he is an educated individual that is down and out and this is his only hope to get some type of money."
The Lunchtime Bandit earned his nickname by showing up punctually between noon and 1 p.m. for four out of five of the robberies he has committed so far, all of which have occurred on Toronto's Yonge Street. The time frame led Earl to speculate that the bandit is perhaps a student on his lunch break. 
The "well-written" notes he has slipped tellers, demanding cash and suggesting he has a gun, have all been composed with "proper grammar." That, apparently, would support the theory that the culprit is educated. 
Yet the authorities' focus on the robber's apparent advantages miss the point: He has committed a string of crimes, which, according to Earl, left some of the tellers with post-traumatic stress disorder, unable to return to their jobs for fear of another robbery.
"We are hoping to give the tellers and the bank employees an early Christmas present by trying to get this preppy punk off the street before he goes on to commit further robberies," Earl said.
Earl did not disclose how much money the Lunchtime Bandit has stolen, but five robberies since late November is a criminal feat not to be sneezed at. A similar case in March did not warrant the same empathetic tone. The suspect, also a 20-something, targeted 10 banks in the same area, passing the tellers notes saying he was armed and to hand over the cash. At the time, Earl did not seem to have alluded to the suspect's socio-economic standing in that scenario. He did note that, while the suspect was light-skinned, it was unconfirmed whether he was Caucasian.
The case echoes moments when the U.S. judicial system has gone easy on wealthy young white offenders, without exercising the same sort of understanding when it comes to black suspects. It's not just with robberies, but a myriad of other serious crimes.
One wonders how much of the authorities' portrait of the Lunchtime Bandit was influenced by his being "clean cut" and "well-dressed" and white.