Whole Foods' $8 chopped cheese sandwich is peak "Columbusing"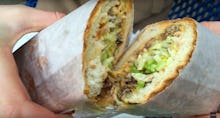 The iconic New York chopped cheese, a sandwich comprised of ground beef, peppers, onions and cheese slices, is a staple in delis in places uptown like Washington Heights and Harlem, as well as the Bronx and Queens. However, according to a recent report in DNA Info, this outer-borough-slash-uptown treat has made its way downtown, and with a new price tag.
On Monday, Twitter user @mgoldstein tweeted out a picture of the Whole Foods at Columbus Circle in New York selling $8 chopped cheese sandwiches, easily twice the price of the sandwich a few subway stops away. 
"Holy shit, they're selling chopped cheeses at Whole Foods," the caption reads. 
As the tweet went viral, New Yorkers used Twitter to react to the latest symptom of the cultural appropriation fever. 
Others made sure to highlight the irony of the chopped cheese cart's presentation: The station boldly bears the year 1492 across its display. What's tickling most people is that Christopher Columbus is not only the namesake for Columbus Circle, but also of the act of "Columbusing," the phenomenon where white people "discover" something that people of color already knew about. 
The folks over at Bon Appetit recently learned the definition of "Columbusing" when they released a video in which a white chef explained the correct way to eat pho, which drew the ire of the Vietnamese community. 
The signs that chopped cheese would eventually be gentrified have been coming for a while. In February, Insider released a video explaining the sandwich's place in uptown food culture. In June, a video mocking Insider's original video went viral, and the New York Times released an entire feature about the chopped cheese in November.  
Jeffrey Almonte, the person whose video went viral in June, said to Mic in a statement that, when it comes to the appropriation of chopped cheese, he "saw it from a mile away." 
"It's no surprise especially since they plan on opening a Whole Foods in Harlem after the closing of an affordable supermarket like Pathmark," Almonte said. "This sandwich will soon lose its underground identity." 
The Times article traced the origins of the sandwich back to a deli, Hajji's, in East Harlem. Mic called the deli for comment, but the person who answered said the deli was too busy serving up chopped cheeses to offer comment. 
One thing is clear, even if Whole Foods is trying to get into the chopped cheese game, it's still the new kid on the block. 
Whole Foods did not immediately respond to a request for comment.