'Stardew Valley' Xbox One Patch Release Date: Update confirmed following PS4 fix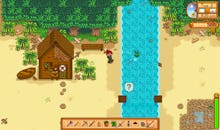 Stardew Valley is a great game for relaxing when you're tired from a Pokémon Go hunt or reeling from some bad Super Mario Run Toad Rally challenges and need something easy to play instead. The indie darling recently launched on PS4 and Xbox One, earning positive reviews despite some performance issues on Microsoft's console. Thankfully, the developer, ConcernedApe, has already confirmed that a Stardew Valley Xbox One patch is on the way.
Stardew Valley Xbox One patch notes: Everything included in the update
There isn't an exact release date for the patch yet, but ConcernedApe offered up a detailed list of all the changes coming in the update. The overwhelming majority of the changes address minor control and interface problems.
However, the first bullet point is the most important, promising "performance improvements for periodic hitching and freezes." Early reviews of the Xbox One version of the game mentioned those issues, so if you were holding out on buying the port it sounds like it will be fixed soon.
Stardew Valley PS4 patch already released
The PS4 version didn't have the same performance problems, but there was a patch released for that version as well. The same blog post has detailed patch notes for that update, which mostly fixes control and interface updates like the Xbox One patch. 
It also adds new functionality for the PS4 touchpad, such as making it advance through level up dialogue boxes more quickly.