8 reasons why 2016 wasn't a total garbage fire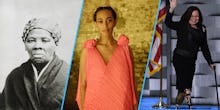 There have been memes about it and a line of jams (yes, jams). Slate wondered, "Was 2016 the worst year in history?" while BuzzFeed declared that "it's official, 2016 is actually the worst year" on record. 
Last Week Tonight host John Oliver — like many of us — gave up on 2016 just after the presidential election, stating bluntly during the season finale of his show, "Even though this year still has seven weeks left, I'm calling it early: 2016 has been the fucking worst."
The notion that 2017 will hold no more peace, joy or justice than 2016 seems a little bleak at this point. But it's helpful to remember that this year had its fair share of high points. We need only squint a little to see them. 
The use of the death penalty is at its lowest rate since 1991
Court rulings from earlier this year are partly responsible: In January, the U.S. Supreme Court voted 8-1 against what they saw as an unconstitutional death penalty sentencing protocol in Florida, and in August, Delaware's Supreme Court struck down the state's own death penalty sentencing on the same basis. 
A recent report from the Death Penalty Information Center found that the use of the death penalty — while still legal in 31 states — is on a sharp decline. 2016 saw a 25-year low with only 20 executions.
Opposition to the death penalty also reached its highest point since 1972 this year, according to a Pew Research Center study. Some 42% of Americans now oppose the practice — a stark contrast to the 80% who were in favor of the death penalty at the peak of its popularity in 1994.
The United States Treasury Department announced Harriet Tubman would be featured on the $20 bill
2016 sealed the deal for putting a woman's face on paper currency in the United States. The U.S. Treasury launched the initiative back in 2015, when it announced a plan to replace Alexander Hamilton on the $10 bill. But in April, officials said they would instead feature abolitionist Harriet Tubman on the $20 bill.
The decision is one that begins to reckon with our nation's history of slavery and recognizes one of the women who shaped the civil rights movement. During roughly 13 trips to Maryland, Tubman rescued about 70 slaves, bringing them to freedom. 
"I had reasoned this out in my mind; there was one of two things I had a right to, liberty of death; if I could not have one, I would have the other; for no man should take me alive," Tubman famously said. 
Black women made powerful music
Music can heal — and God knows we all needed some healing this year. 
Luckily, the Knowles sisters came to the rescue, bringing us Lemonade and A Seat at the Table, two albums that tackled some of the most pressing issues of 2016 head on all while paying homage to black women's power and influence.
Beyoncé spoke truth to power during the Super Bowl halftime show, when she and her dancers performed "Formation" — her homage to black culture and protest against police violence — in full Black Panther garb. 
Meanwhile, Solange spoke to black women's experience in one of the stand-out tracks from her album called "Don't Touch My Hair" and created accompanying visually stunning videos exclusively featuring people of color. 
Solange seems to speak for both her sister and herself when she sings, "Don't touch my crown / They say the vision I found." 
We made huge advancements in medicine
While we might have been rolling our eyes every time we scrolled past a new ALS Ice Bucket Challenge video on Facebook, it paid off big. The viral challenge raked in $1 million, which provided scientists with the funds to discover the gene responsible for the disease  this year.
According to an ALS Association press release on their findings, the discovery provides doctors and scientists with "another potential target for therapy development" for the nearly 30,000 Americans living with the neurodegenerative disease. 
In March, surgeons completed the first organ transplant — a kidney and liver — from an HIV-positive patient to another. The procedure will help save and extend the lives of people living with the virus. 
2016 was also the year the opioid crisis gained national attention, with President Barack Obama pledging $1.1 billion to fighting heroin and prescription opioid abuse, which has seen a dramatic spike in recent years.
"We're losing a lot of people," Marisa Hebble, director of Massachusetts' Opioid Task Force, told Mic in February. "I think the multiple levels of government — at the local, state and federal levels — are engaged and paying attention."
Countries proved that an environmentally sustainable future is possible
In May, Portugal reached a huge milestone when the country powered itself on renewable energy alone for four consecutive days, joining the ranks of a handful of other European countries that have made huge strides in reducing their environmental impact this year.
The month before, a Denmark company developed the technology to harness the energy from ocean waves to power a generator. Germany produced so much clean energy in 2016 that, at one point, the country's energy prices dipped into the negatives. In early December, Sweden's zeal for recycling went so far that they ran out of garbage. 
2016 was also the year that 160 countries came together to sign the Paris agreement, a U.N.-led international initiative to tackle climate change. 
"There's been a real psychological shift, seeing this as a shared burden and now also as an opportunity for development," U.N. Foundation vice president Reid Detchon said at the time. 
A brighter, greener future is within reach. Don't let the climate change doubters get you down.
For the first time, a U.S. resident was allowed to legally identify as nonbinary
Jamie Shupe doesn't identify as male or female — and for the first time ever, a government institution has legally recognized that. 
In June, an Oregon judge ruled that the 52-year-old could legally change their gender identity to nonbinary. Shupe, who was assigned male at birth, identified as female as an adult, but felt "crushed" by the pressure to choose among just two genders. 
"I didn't just reset the parameters, I got rid of them," Shupe said in an interview with Out. "They're nothing but toxic."
Perhaps Oregon took a cue from Mexican President Enrique Peña Nieto who, in May, signed a constitutional reform that would allow trans residents to change the gender on their birth certificate so that it matches their gender identity. 
There are now more women of color in Congress than ever before
Hillary Clinton may not have been elected to office in November, but there were plenty of other women who were, and that alone is worth celebrating.
On Nov. 8, voters elected three women of color to the U.S. Senate, including Tammy Duckworth, who, after becoming the first disabled woman elected to the House of Representatives in 2013, became the first Asian-American senator-elect for Illinois. Joining her was Kamala Harris, the second African-American woman to be elected to the Senate, and Catherine Cortez Masto, who will be the Senate's first-ever Latina. 
"I'm proud to be Nevada's first female and our nation's first Latina senator," Masto wrote in a tweet the morning following her win. "It's about time our government mirrors the diversity of our nation."
We saw the power of protest
Protests broke out in Poland after the country passed a total ban on abortion in April. Churchgoers staged walkouts and thousands filled the streets across the country until, in October, lawmakers voted against the ban.
Meanwhile, in North Dakota, the Standing Rock Sioux celebrated a tentative victory earlier this month when the United States Army Corps of Engineers announced they'd rejected the permits necessary to continue construction of the Dakota Access pipeline, which would encroach on native land.
The story of human history isn't one of steady, upward progress. Every year brings with it lows that make us feel as though we've turned back time. But there are always bright spots that propel us forward.