'Super Mario Run' Cheats and Hacks: How to get unlimited lives, money and more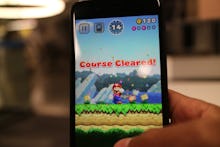 Looking for Super Mario Run cheats to help speed through the game? We've got good news and bad news.
The bad news is that Nintendo released what appears to be a relatively glitch-free game, meaning there are no built-in exploits to take advantage of. The good news is if you're willing to jailbreak your smartphone (which is legal but voids the warranty) there are a few Super Mario Run hacks worth checking out.
Super Mario Run Cheats: Before you get started
If you decide to jailbreak your iOS device (or you have already) you'll also need to install a special extension to keep Super Mario Run from crashing as soon as it boots up. To do so, open the Cydia app store on your jailbroken device and download the "tsProtector 8+" extension. Then open up the Black List Apps menu, switch on Super Mario Run and you should be set.
Even if you follow these steps it's still possible Nintendo could bring down the banhammer on cheaters. So proceed with caution when using these Super Mario Run hacks, especially if you're competing against other players in the game.
Super Mario Run Cheats: Unlimited lives/bubbles hack
A hack shared on iOSGods promises unlimited bubbles in the game. Bubbles essentially act as lives in Super Mario Run, rescuing you every time you're in danger. However, you only have a couple of bubbles to spare each time you play. So unlimited bubbles essentially means you get unlimited lives.
The hack is apparently available for non-jailbroken devices too. However, you'll need to set up an account with iOSGods to check that version out
Super Mario Run Cheats: Unlimited coins hack
iOSGods also has a cheat for getting unlimited coins. Again, this one is blocked unless if you have an account. It also requires jailbreaking your device.
This hack will give you 999 coins in single player mode. It will also give you 9999 coins in Toad Rally, where you compete with other players, meaning you'll pretty much win every time. 
Super Mario Run Cheats: Speed
Finally, here's one more hack for jailbroken devices that lets you speed up or slow down Super Mario Run. That could be useful if you're having trouble beating a tricky level or just want to speed up some of the easier levels early in the game.
Check out this Super Mario Run cheat in action in the video below.
More Super Mario Run tips, tricks and news
Even if you don't feel like cheating your way through Super Mario Run there's still plenty of ways to step up your game. Check out Mic's guides to unlocking secret levels, getting all the characters, fixing the game if it crashes and our detailed walkthroughs for World 1 and World 2 of the game.