Christmas TV episodes on Netflix 2016: Watch 'Fuller House,' 'F Is for Family' and more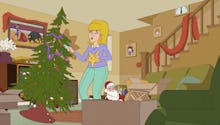 At this point in 2016, if you manage to keep your cool during politically charged dialogue at the dinner table or dodge a flurry of questions about the state of your romantic life, then your Christmas is already a monumental success. While an especially turbulent year comes to a close, all we can really hope for is the opportunity to hurl our bodies onto the couch, and embark on a magical, episodic journey through Netflix.
Over the seasons, television's holiday-themed episodes are often the most memorable. From The Office's instantly quotable "Christmas Party" to Black Mirror's haunting "White Christmas," we've compiled a fail-safe holiday queue to keep your spirits high or at the very least, highly entertained.
The Office season 2 episode 10: "Christmas Party"
In a tireless effort to win the adoration of his employees, Michael Scott, played by Steve Carrell, breaks company policy by bringing a whole lot of booze to the annual holiday party. Predictably, Michael's plans for getting people to "cut loose" and "make out in closets" leads to painfully awkward flirtations, secret Santa disputes and a whole lot of drunken debauchery.  
F Is For Family season 1 episode 6: "O Holy Moly Night"
Comedian Bill Burr has found a worthy home for his animated Netflix original. Based on Burr's dysfunctional suburban upbringing, F Is For Family follows Frank, a short-tempered veteran, who's just trying to keep his head above water as the household's patriarch. Its first holiday episode, "O Holy Moly Night" will have you beside yourself with laughter as you watch this unapologetic, not always PC comedy unfold. 
Arrested Development season 2 episode 6: "Afternoon Delight"
In the family's usual struggle against traditions going awry, Michael Bluth attempts to score some quality time with his son, George Michael, while the rest of the family attempts to scam the government or guests at the Bluth company Christmas party.    
Black Mirror season 2 episode 4: "White Christmas"
Nothing says Christmas like the somber reflection of humanity's innate wickedness. If you're having trouble finding a reason to subject yourself to something a little dark and unconventional, Jon Hamm as Matt, a benumbed sociopath sitting down for Christmas dinner with a mysterious stranger, is all the reason you need to tune in. The best part? If you've yet to catch an episode of Black Mirror, worry not, the series doesn't follow a linear narrative, so you can jump right in.
Parks and Recreation season 4 episode 10: "Citizen Knope"
While a recently suspended Leslie Knope attempts to do some form of work for the department, the office plans to reward their tireless leader with an extra sweet Christmas gift.  
It's Always Sunny in Philadelphia season 6 episode 13 "A Very Sunny Christmas"
With no shortage of psychopathic tendencies or social atrocities under their belt, the gang takes time out of their usual schedules to reflect on some especially traumatic Christmas history. Already renewed for season 13 and 14, Always Sunny will officially be tied with The Adventures of Ozzie and Harriet as the longest-running comedy series in television history. The offbeat FXX series will be back on Jan. 4, making the prospect of leaving 2016 in the dust even more exciting.   
Mad Men season 4 episode 2: "Christmas Comes but Once a Year
The series finale of Mad Men aired in 2015 but throughout all its seven seasons, Mad Men creators have consistently approached character development with unparalleled complexity. As Don Draper juggles familial responsibilities, a multimillion-dollar account and the office holiday party, Sterling Cooper's cunning creative director with a sordid past prepares for another emotionally detached Christmas. Every episode of this AMC hit has a weight to it but "Christmas Comes but Once a Year" leaves an impression that really lasts.
Buffy the Vampire Slayer season 3 episode 10: "Amends"
Based on the cult classic film, Buffy the Vampire Slayer, the wildly popular movie spin-off stars a young Sarah Michelle Geller. Buffy blew viewers away when it aired in the early 90s and has continued to do just that throughout the years. What better way to break up your Christmas Netflix binge than with forces of evil and bloodshed?
That '70s Show season 1 episode 12: "The Best Christmas Ever"
Take a break from daydreaming about a That '70s Show reunion and start reminiscing about the old times with an unforgettable Christmas episode from the sitcom's first season. Picture Red as his unfiltered misanthropic self, taking creative liberties as the firm's twisted new Santa.
Fuller House season 2 episode 12: "Nutcrackers"
In season two's Thanksgiving episode "Fuller Thanksgiving," the cast tries to cajole Mary-Kate and Ashley Olsen out of hiding to reprise their role as Michelle Tanner to no avail. Since it's Christmas and Michelle Tanner is still busy building her fashion empire in New York, it seems only right for fans to join the family around the tree for some quality time. 
Gilmore Girls: A Year in the Life season 1 episode 1: "Winter"
For "Winter," the first of four 90-minute installments in the show's Netflix revival, a career-driven Rory has just been published in The New Yorker, and takes a day's reprieve from work to visit Star Hollow. Lorelai and Rory have always had an enduring mother-daughter dynamic that has captivated fans well beyond the 2007 series finale. To the relief of die-hard Gilmore Girls fans, the revival's opening installment does not disappoint.   
The Vampire Diaries season 4 episode 9: "O Come All Ye Faithful"
In the juiciest of juicy TV dramas, The Vampire Diaries is maddeningly addictive via metaphysical, undead teenage yearnings. At this point in the series, the growing clergy of witches, vampires, werewolves and vampire/were hybrids have infiltrated Mystic Falls and the supernatural conflicts are in abundance. Since suspension of disbelief is exactly what the doctor ordered this Christmas, take added comfort in the fact that all the characters are having a way more stressful holiday than you.
Friends season 7 episode 10: "The One With The Holiday Armadillo"
Ross stops by Masters of Masquerade to pick up a last-minute Santa outfit for his son. When the clerk tells Ross that they're fresh out of Santa suits, the eager-to-please dad settles for an armadillo costume. In this classic Friend's moment, the "part Jewish" Holiday Armadillo is born.